JASON H. STATTS passed away in hospice last week at age 48. Perhaps more than any single figure in the last decade, Statts helped hold together not just the local music scene, but in a broader sense the entire cultural soul of the community.
A talented musician and gifted visual artist, Statts had already been inspiring people with his courageous outlook on life even before the 2008 armed robbery that left him quadriplegic.
But as those who knew him best will attest, Jason was inspiring and lifting up people and artists his entire adult life, well before that tragedy one summer night on a sidewalk in Ardsley Park.
Several lives were forever changed on June 28, 2008. Jason Statts and his bandmate David Williams, struck by the same fateful bullet, suffered lifelong physical debilitation: Statts, unable to move much other than his face and some fingers after the bullet destroyed his spinal column, and Williams, unable to speak for a long time, from the same bullet penetrating his throat.
The shooter, Desmond Hunter, was convicted in 2009 and will spend the rest of his life in prison. He was 22 when he shot Statts and Williams, who were both in their 30s.
The pair were attacked as they celebrated after their band, Surt the Destroyer, had finished their first — and as it turns out, their last — public performance, at the old LiveWire on River Street.
After the shooting — and after Statts embarked on the long, excruciating journey of attempting to rebuild his life, an effort which required 24/7 caregivers — friends and family put together the annual Statts Fest to help raise funds for his ongoing care.
Statts Fest was held at various venues over the ensuing years, beginning in 2009. But mostly it was held at The Jinx, the now-defunct rock club which was a mecca for local musicians and the center of Savannah's humble but vibrant touring circuit.
One of the points of Statts Fest was specifically to bring together a variety of styles and sounds, in a celebration of local musical talent. It rapidly became one of the most anticipated events on Savannah's cultural calendar.
Jason himself tried his best to attend every edition of the festival bearing his name, though it wasn't always easy given his extreme physical limitations.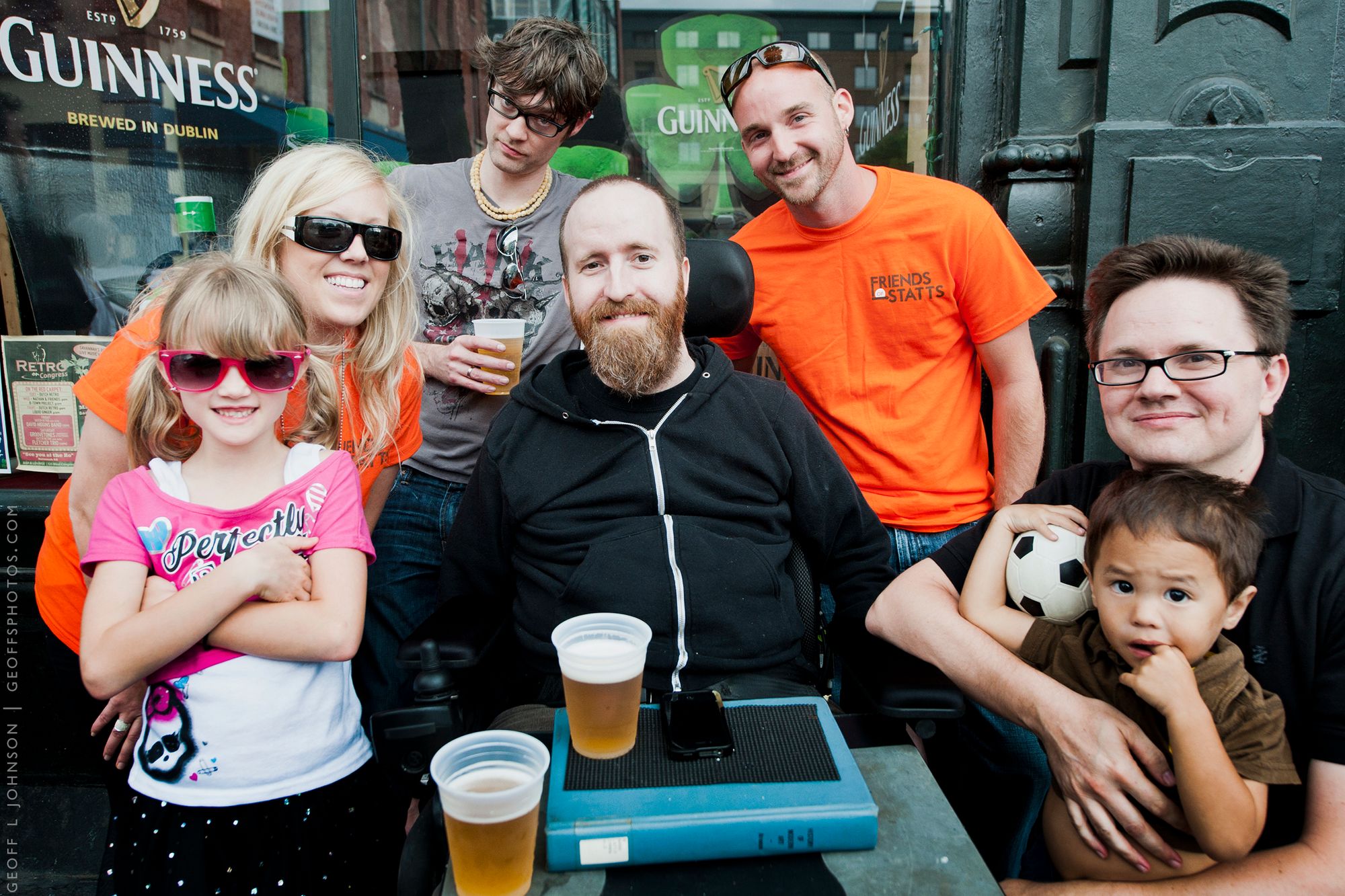 Every journalist who interviewed Jason over the years since the shooting came away struck by not only his legendary resilience, but his sense of humor in the face of dire adversity.
"If you wave a gun at someone, they're probably going to do whatever you want them to do. You don't really have to shoot them to make your point," Statts said to me in a 2014 interview.
"I don't know if there's a courtesy involved with ripping someone off [laughs], but there should be at least a little bit of nicety before you blow someone away."
Statts found a Zen-like sense of some kind of peace with things fairly shortly after the shooting, even with the shooter himself.
"I don't really think about him or the shooting for long. I know he wasted his life. But that was his decision," Statts told me in 2014. "I'm at peace with myself. Whatever happens now happens."
We reached out to some of Jason's longtime friends and colleagues for some reminiscences about this remarkable man, and what he meant to his city and his extended musical and artistic family.
All photos in this piece are courtesy of Geoff L. Johnson.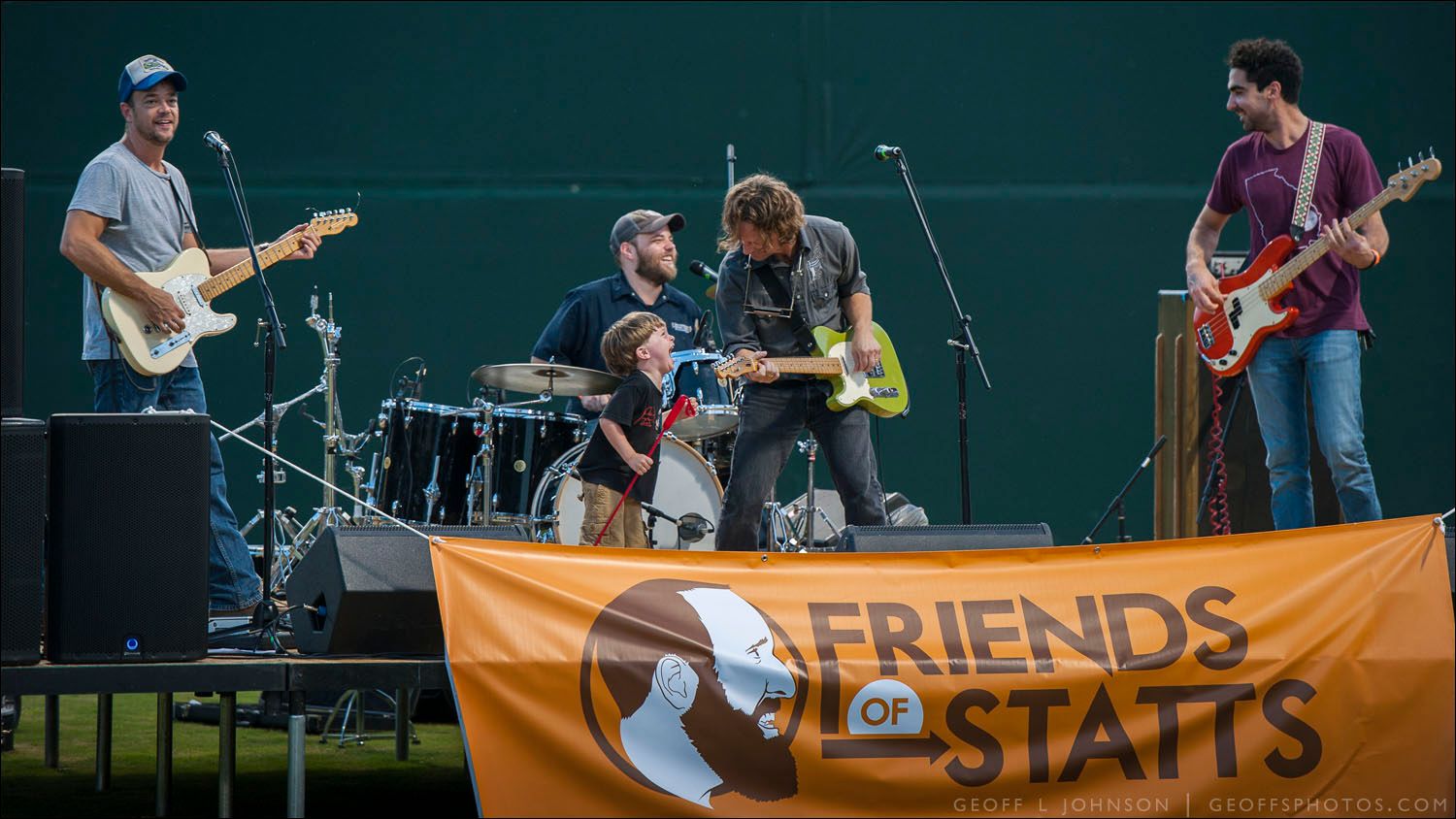 Mark Rand, Designer:
I was creative director at SCAD's Design Press in the mid-nineties when Jason applied for a graphic design position following his graduation. His degree was in illustration, but after interviewing him and reviewing his incredible portfolio, I took a chance and hired him.
To me, Jason proved that an excellent illustrator generally has an innate sense of excellent design and composition as well. He also came to the job without the egotistical baggage of thinking of himself as a Designer with a capital "D."
His graphic designs and typography were meticulously imagined and precisely executed, down to the smallest detail, but he maintained a sense of humility and was a pleasure to work with, beloved by all his co-workers.
Even Jason's doodles, discovered after a staff meeting for example, were beautiful creations; there was nothing sketchy or semi-formed about them.
Over the past 35 years, Jason was one of the only fellow designers whose work I could immediately attribute to his unique talent and sense of style.
Philip K. Palmer, Musician:
Earlier in the evening that changed Jason's life forever my band had played a show with Surt the Destroyer. After the show, Jason and David Williams invited me to go hang out with them. At that time it was a rare thing for me to turn down alcohol, but I told them I was feeling tired, perhaps after the next gig.
Kevin F. Rose, Musician and Producer:
Remembering Jason is as effortless as it is expansive, he was refreshingly direct and yet simultaneously multi-dimensional.
There is absolutely no way to describe the way he could wryly smile and encapsulate a situation or joke with a couple words…those of us who were blessed enough to witness it and also "get it" will understand exactly what I can't describe with words.
Lucky is how I describe those of us who were fortunate to work with Jason, his graphic skills were so damn brilliant he could make records sound better by the package he designed. It was never a job for him, it was a calling to connect the visual world to the songs.
His deep understanding of the visual and the aural worlds were fantastical, downright impossible to fathom. He was a musician, artist, and above all, able to distill both into a sum greater than its parts.
We worked together on so many album covers, my only regret is more weren't pressed to vinyl so the world could see his work on the grandest of formats.
All of his work was grounded in his soul, a soul so kind and caring you couldn't help but want to be better knowing him.
A man of his character is hard to come by and at the risk of unfolding a cliche that Jason would undoubtedly call me to task for, the world was better because of Jason and all of us that remain here know full well that we need to pick up the slack his loss created.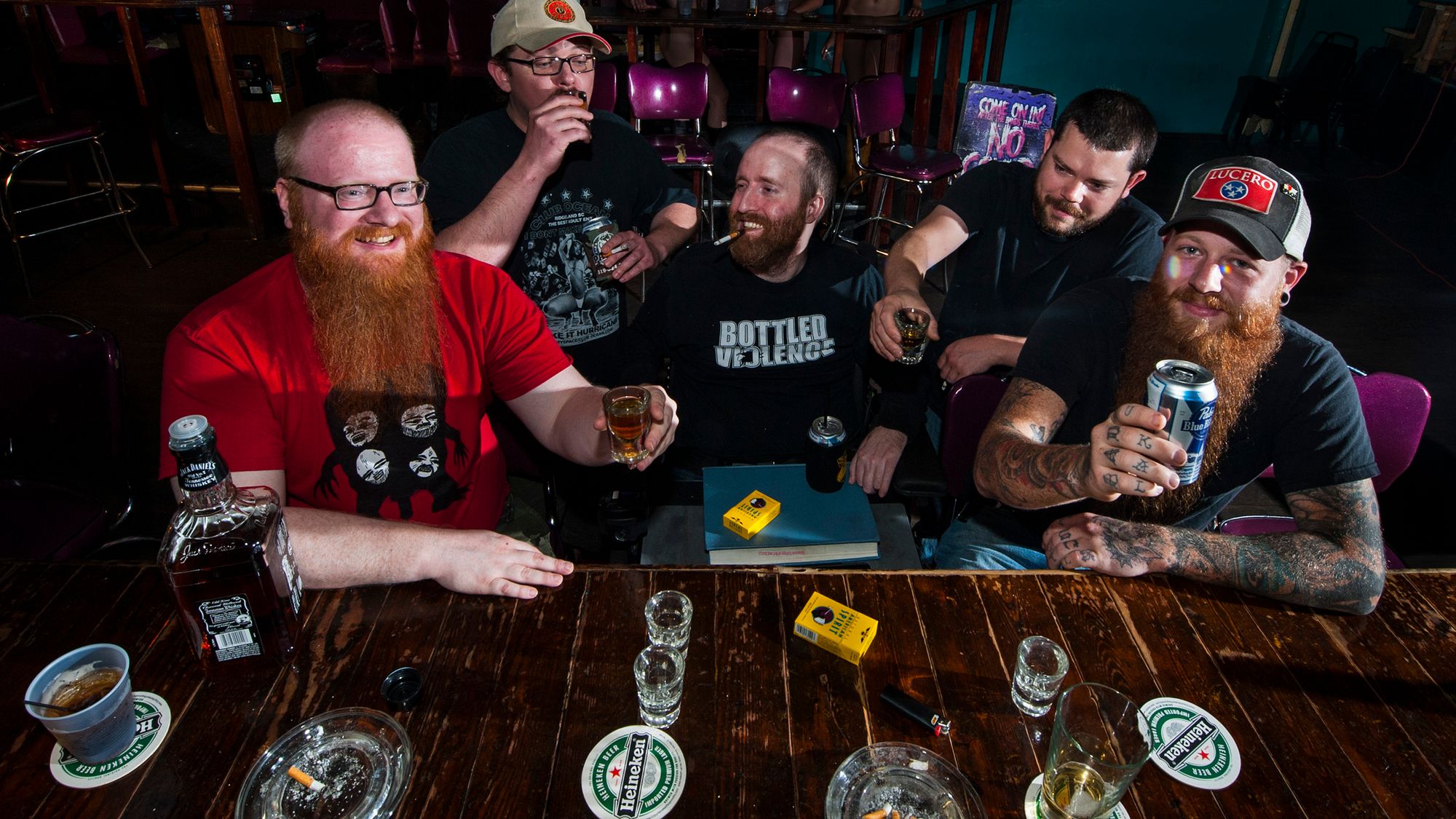 Chelsea Heier, Caregiver:
I was one of Jason's caregivers. I was privileged to be with him for 9 years. I am still reeling from his passing and struggling to get my thoughts together.
Jim Reed, Musician:
Jason and I first met at SCAD in the late 1980s, when we were both young, enthusiastic and perhaps more easily excitable.
The school had one campus and a total enrollment of less than 1,000 at that time, which meant that if you kept your eyes and ears open, you would get to know -- or at least meet in passing -- the vast majority of other students at the school, whether they shared your major or not.
He and I were casual friends for many years, and that friendship was mostly built around the fact that we both loved adventurous rock music that existed fairly outside of the mainstream.
The number of people living in Savannah in the 1980s and 1990s who were to some degree obsessed with such music was fairly small, but had increased dramatically with the influx of SCAD students -- most of whom were aggressively individualistic, and had traveled from all over the USA to what was then a sleepy little town (which felt to many of us like a big city), in hopes of letting their freak flags fly, far away from the inherent confines of their own sleepy little towns and the admonishing eyes of parents and neighbors who were -- for whatever reasons -- incapable of wrapping their heads around the kind of nonconformist fashions, attitudes and behaviors that were commonplace among artistically-inclined teenagers in the years before the internet as we now know it.
Incongruous oddballs of all stripes met and bonded in that hothouse of creativity, and Statts was right there in the thick of it.
Right around the time most folks who'd traveled here for SCAD graduated and split, Jason and I were some of the few that stuck around and made this increasingly less sleepy town our adopted home -- with gusto, as Jonathan Richman might say.
I always respected Jason immensely as someone who was quietly putting his own stamp on the area and beyond, via his frankly stellar graphic design work, both for the school itself and later for a national (and perhaps international) advertising agency based out of South Carolina.
Over the years, he and I both played in a few original (or so we all hoped!) musical projects, myself as a drummer and he as a bassist. But we never played together, as our tastes were not aligned to that degree.
He was a rock solid musician whose approach to his instrument in some ways mirrored the attention to fine detail evident in his graphics work. Music is little more than the mysterious nexus between math, sound and emotion, and the same could be said of graphic design -- if one swapped out "sound" for "visuals."
Whenever I saw Jason's posters and print ad campaigns, I could glimpse the impressive math behind their deceptively organic artwork, and when I saw or heard him playing music, the sometimes complex numerical underpinnings of the compositions routinely brought a knowing smile to my face. Meaning that I knew I did not possess the acumen to reliably construct or perform such melodic and rhythmic parts myself!
I know that for many years leading up to his debilitating injury, Jason wanted very much to spend more time making music than circumstances allowed, and it's our local scene's loss that he did not.
A couple of years before that agonizingly infuriating tragedy, he and I finally got to work together on a couple of record album projects. One was the debut full-length release by my proto-punk garage septet Superhorse, and the other was a highly acclaimed live album by famed C&W fiddler Vassar Clements and an all-star cast of bluegrass legends, for which I was honored to pen the liner notes.
Both of these releases were artistic triumphs.
Jason was our obvious first choice to hire as graphic designer for the Superhorse CD, as we wanted to keep the entire production as in-house and local as possible. He was excited to be asked, as he dug the band, and we were thrilled to have someone of his technical caliber on board.
The band's frontman Keith Kozel and I had developed a tongue-in-cheek concept for the packaging that was intended to be both clever and coy at the same time, and Jason "got" it right away. The three of us worked together over a number of weeks to refine and elaborate on the idea, which became increasingly nuanced, and took advantage of a brand-new technological advance in CD packaging that had only just been introduced.
In the end, I believe the look and feel of that record's design and manufacture wound up rivaling most any big-money record on any established label. The fact that we accomplished such a feat as an unsigned and essentially unknown band with a shoestring budget is entirely due to Statts' devotion to the task and his attention to detail.
A few months ago, while reminiscing on Facebook about that album's creation, I said as much publicly, and tagged Jason in the post. He responded almost immediately, commenting that he too was extremely happy with that design and agreed that it held up right alongside most major rock CDs of the time.
It was great to hear from him and to know that he was also proud of the project. But it would prove to be the last time we spoke.
I was unaware his health had taken an even more deleterious turn of late, and the news of his death hit me like a baton to the gut.
Sitting on my desk is an envelope addressed to him that I had planned to deliver this week. It contains an invitation to a celebration this December that I'd greatly hoped he'd be able to attend.
I was also looking forward to seeing him in just a few weeks at this year's annual StattsFest benefit concert, and giving him the news that my indie label was soon to officially reissue that Superhorse album -- and hopefully introduce his baaddass packaging design to many more people than saw it the first time around.
My heart is sick over this.
However, when I think of Jason, I think of a man with more talent, bravery, grace, patience, strength, resolve, stamina and nerve than perhaps anyone else I have ever known.
More so than all of that, he was just plain kind. I mean really kind. And supportive, in a way that is far too uncommon these days.
Those of us who knew him were lucky indeed, and perhaps some of that support and kindness can live on through us.
Thomas Cagliano:
Him and his ex wife were customers were mine at Sweet Potatoes back in 06-08. Always loved seeing them. Talked about music a lot. After everything that happened, I was picked for the jury. I'm glad those POS that did that to him and his friend are rotting in jail. He came in the restaurant after the trial. Kept in touch after that, then lost contact. I'm glad he's not suffering anymore.
Bill DeYoung, Journalist:
I don't know what his private moments were like – really, how could anybody know? – but every time I was in Jason Statts' presence, he was much more at ease than I was.
He had this way of making you feel … not comfortable, exactly, but able to see past the 800-pound gorilla in the room. He was so soft-spoken, and so matter-of-fact about his condition, that you forgot about it and got down to the conversation at hand.
Not that you didn't feel bad, awful, about what had happened to him, but what was so cool about Statts was that he was getting on with his life, such as it was.
He could talk about anything. Up to and including the night it happened.
"There was a time when I wouldn't have cared if I was here or not," he told me during one of our first interviews. "I got to that point. I was like 'Well, they shoot horses that break their legs. Why can't someone do that to me, just get me out of here?'"
But that passed, and he carried on. I remember his pretty young wife, Lyra, and how she stayed with him, looked after him, until she just couldn't take it any more.
Their split was a mutual decision, he told me. "She was my best friend for 17 years," he said. "That doesn't just go away."
I remember his bond with Dave Williams, whose body, unlike Jason's, healed up in the weeks and months after that piece of shit shot them both that awful night.
"I don't think about it nearly as much as I used to," Williams said during a three-way conversation in 2013. "Jason and I have moved past it enough that we joke about it. We've always picked on each other, anyway, about the absolute worst things we could pick on each other about.
"That's just always been part of our personality. Both of us grew up with 'trial by fire' groups of friends. In that situation, you make fun of each other. There's nothing somebody could say to us that's going to offend us."
Added Statts: "We're sarcastic assholes, basically."
In the end, of course, the 800-pound gorilla won.
I like to think of Jason, wherever he is now, running as fast as he can, laughing, leaping in the air, happy and healthy and free at last.