THE NIGHT before Thanksgiving, one of the most daring and delightful concerts in Savannah music history will take place at Victory North.
A remarkable and unprecedented assortment of about 40 local musicians, ranging from the well-known to hidden gems, will play an extended, whimsical "Last Waltz" style show celebrating the music of The Traveling Wilburys, aka Bob Dylan, George Harrison, Roy Orbison, Tom Petty, and Jeff Lynne.
The goal of the show is not only to highlight the diversity and range of Savannah's musicians, but to try and create the feel of The Traveling Wilburys planned world tour – which poignantly never took place, due to the sudden death of Orbison a few months after their first album was released in 1988.
Jim Reed, longtime local musician and show promoter with his company Knocked Out Loaded Concerts, is putting together this event at Victory North along with another local music legend, Ray Lundy of Bottles & Cans.
"Ray and I picked this group of local musicians with the goal of reflecting as best we can the totality of the local music scene," Reed says. "There will be some people onstage that you might recognize. There will be others that you'll say, 'Who's that? They're incredible. I've never seen them before.'"
In addition to Reed and Lundy, the who's-who onstage Nov. 22 includes local luminaries Anders Thomsen, Craig Johansen, Steven Baumgardner aka Basik Lee, Matt Eckstine, Laiken Love, Eric Culberson, Trae Gurley, Cecilia Tran Arango, Eric "Big E" Moore, Jason Bible, and many, many more.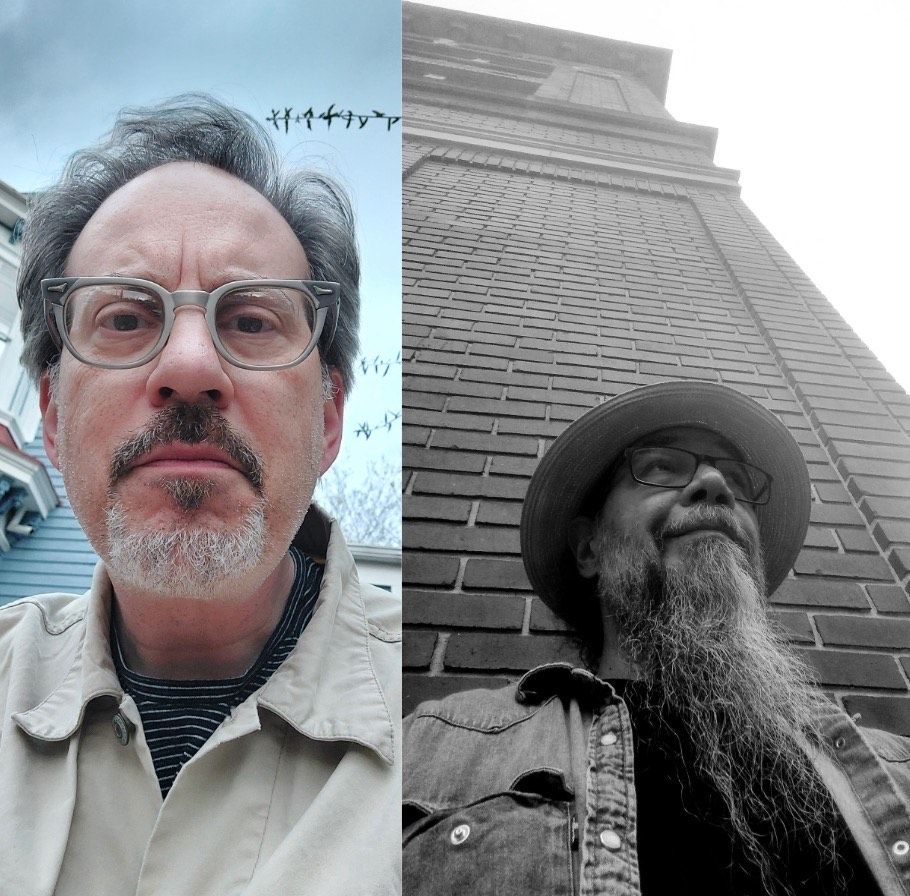 In 1988, when the Traveling Wilburys' debut came out, the angle at the time was that these were the "old men" and "elder statesmen" of rock, getting together to show the young whippersnappers how it's really done. They would release two albums together – the second without Orbison – and had several huge radio hits.
As one popular meme jokes, however, the old men weren't that old. Dylan was 47, Petty was 37, and Orbison was the "oldest" at 52.
Reed says some truth lies underneath the meme's humor.
"They were regarded as elder statesmen… because they were!" Reed laughs. "Think about it: It's 1988. MTV is king. In that rubric, Bob Dylan, Roy Orbison, George Harrison were dinosaurs!"
In 1988, Reed says, "The Beatles had already been broken up for 18 years. Dylan was in his 40s, but had become famous when he was 21 or 22. Petty's first album came out in 1976. Ten or 11 years is a long time in the world of popular music."
The story of the Wilburys forming is a documentary in and of itself. It came out of the confluence of several key events: the induction of The Beatles into the Rock and Roll Hall of Fame in 1988 (yes, it took that long); George Harrison releasing a solo album, 'Cloud Nine,' the year before; and a career renaissance for the great Roy Orbison, with a hit album produced by Jeff Lynne of E.L.O.
The beauty of the Traveling Wilburys, says Reed, is there was no plan at all.
"The whole reason the Wilburys were so special for a lot of us is it was created on a whim, it was totally a lark," says Reed. "There was no business plan, no agents. An actual formal business proposal would have been impossible to put together because they were all on different labels."
The spark of the group was the request for Harrison to deliver a B-side for 'Cloud Nine' for the European market, which needed to be a "bonus" tune that wasn't on the album.
"The record company asked Harrison if he had any more songs. He said no, everything I have is on the album," Reed explains.
"They had to write and record a new song very quickly. But all the studios they would usually use were booked. So Harrison tells Lynne that Bob Dylan has a little garage studio at his house in Malibu, maybe we can do it there."
Dylan agreed. When Harrison and Lynne arrived, Harrison realized he didn't have the acoustic guitar he really wanted to use – he had loaned it to Tom Petty.
So – and I think you can see where this is headed – Harrison called Petty about the guitar.
"And Petty eventually asked Harrison, 'Hey, can I come along? Just for fun, I want to see this shit go down,'" Reed laughs.
The assortment of icons began working to a drum machine backing, on an extremely informal basis. Eventually things were going so well they brought in famed session drummer Jim Keltner.
"The idea was to never tell anybody about who was actually playing the parts, because they were all on different labels and it would have caused too much trouble."
According to Reed, the "extra" song they submitted to the record label was so good that the executives wanted a bunch more just like it. Preferably, a whole album's worth.
The piece of the puzzle that got everyone on board was the chance to work with the great Roy Orbison – an idol to all these other idols.
"Jeff Lynne was working on another Orbison record," Reed says. "He said, 'we really ought to call Roy."
Dylan, Harrison, and company were nervous about asking Orbison at all. Turns out Orbison not only agreed but felt honored, and happily joined in what Reed calls "this big goofy joke… that wouldn't have happened if they gave themselves time to think about it."
The crew of legends agreed to write and record one song per day to make their first record together, at the home studio of The Eurhythmics' Dave Stewart. And that's the story of the debut Traveling Wilburys album.
A tour behind the album hit the planning stages. Despite only having 45 minutes of material together, the idea was to also feature selected hits from each of the solo artists present onstage.
"Up to this point, George Harrison had been going through a major battle with stage fright. This tour was going to represent a chance for him to overcome that," Reed.
Also, Reed says, "It was a chance for Harrison to be in a band again. People forget that The Beatles were the only band he'd ever been in – he joined them when he was like 16 years old."
But then, Roy Orbison tragically passed away at the relatively young age of 52. The tour was immediately scrapped. The Wilburys would release one more album, albeit without Orbison's soaring vocals.
This show at Victory North, Reed says, "is an imaginary version of what that first Traveling Wilburys tour would have been like," says Reed.
Reed stresses that this extended, nearly three-hour show is not a tribute act, but a "salute" to the Traveling Wilburys.
"No one is trying to impersonate anyone," he clarifies.
All the 40 or so artists in the show are encouraged to use their own creativity to interpret the Wilburys tunes.
For example, concert co-organizer Ray Lundy – whose Tom Waits-style growl is well known to local audiences – will take on a tune that originally had an Orbison lead vocal.
"Those two voices literally couldn't sound less like each other," says Reed.
"This is without a doubt the most mind-numbingly ambitious, foolishly epic thing I've ever been involved in," laughs Reed, no stranger to organizing and promoting concerts.
"We are not taking this lightly. This is an immense concentration of talent, and sheer nerve. Everyone involved is well aware of what a tricky thing this is to pull off."
Reed says that he and Lundy cast the show like a play.
"Ray and I picked the songs and the setlist, and matched the songs up with who we thought do the best job with them. Then we called them up and said, 'here's what we'd like you to do.' I'm happy to say that the few people who said they couldn't do it did so simply because they had prior commitments."
Reed and Lundy will act as informal emcees for the show, in addition to playing and singing duties.
If you've seen the famous Martin Scorsese documentary 'The Last Waltz,' you'll have an idea of the general feel and vibe of this show at Victory North.
Why Thanksgiving Eve? The show continues a tradition of sorts, when the now-legendary "Life is a Carnival" show sold out the Lucas Theatre in 2014 with a local all-star salute to The Band.
"There are so many people in Savannah the night before Thanksgiving who've come into town to be with family the next day. They're looking for something fun to do," Reed says.
Reed says the ticket is one of the best buys you're likely to find: A nearly-three hour show in a great venue, with nearly 40 musicians.
If you buy the standard first-floor seated ticket, Reed says, "That comes to about a dollar per musician."
The good vibe will go on after the last song is over.
"There will be an afterparty at Pinkie's following the show," Reed says. We're hoping to continue the feeling of family and community togetherness there, and that everyone will join us."
'The Traveling Wilburys: A Savannah Salute' from Knocked Out Loaded Concerts happens Wed. Nov. 22 at 7:30 p.m. at Victory North, 2603 Whitaker St. Tickets range from $25 to $60 – get them here.