WEALTHY ENTREPRENEUR gives away his millions – and millionaire's lifestyle – to preserve land for future generations, and dies doing what he loves best: adventuring in the wilderness that was his passion.
If it sounds like the stuff of a movie… well, now it is.
Mountainfilm on Tour Savannah brings the true-life documentary Wild Life, about the legacy of Doug Tompkins and his widow Kristine to town for a special Veterans Day showing this Thursday night at Service Brewing.
Tompkins is best known to most as the founder of The North Face and Esprit apparel companies. But in the late 1980s he divested himself of the capitalist ventures he founded and devoted his life the cause of conservation – specifically, conserving threatened, ecologically priceless land in Latin America.
In 1992 he founded the Conservation Land Trust, which bought and protected over 2 million acres of unprotected land in the Patagonia region, and he and his wife Kristine moved to the region to live.
A self-professed "adventure junkie," in December 2015 Tompkins and five others -- including Yvon Chouinard, founder of the Patagonia clothing company -- were on a week-long kayaking excursion in the Chilean wilds.
While kayaking the vast General Carrerra Lake in Patagonia – with water temperatures around 40 degrees Fahrenheit – a freak windstorm popped up.
Tompkins was in a double kayak with Patagonia VP Rick Ridgeway. Chouinard was in a double kayak with river guide Jib Ellison. Two river guides, former USA Men's Whitewater Rafting Team captain Lorenzo Alvarez and Weston Boyles, were each in two solo kayaks.
Tompkins' kayak was overturned. Three kayakers made it to an island in the lake. Rescue efforts – including a helicopter and a naval patrol boat – were able to pull the rest out of the water. But Tompkins' hypothermia was so severe that he didn't survive rescue, and died in a nearby hospital.
The documentary Wild Life is from Oscar-winning filmmakers Chai Vasarhelyi and Jimmy Chin, and premiered earlier this year, in partnership with National Geographic.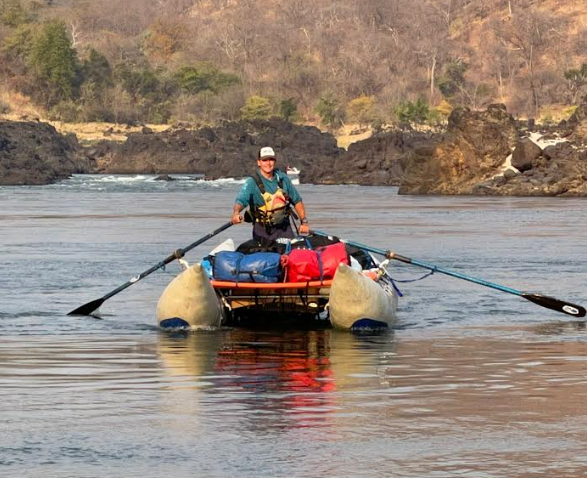 Alvarez, who now runs an expedition/river guide company in Chile, spoke to us last week. He will be on hand for a Q&A this Thursday night after the screening.
He says Tompkins' death – and the resulting discussion of his legacy – has tightened focus on conservation in Latin America.
"After he passed his whole energy and vision got a second wind. He essentially died as a martyr for the cause," Alvarez says.
"The conservation effort in Chile catapulted out of his obscure dream. In Chile and Argentina today, Chile especially, conservation efforts have grown exponentially since his demise. He has inspired other people of similar means and background to jump on the bandwagon," says Alvarez.
Tompkins created two national parks for Chile, by buying the land and eventually turning it over in bulk to the Chilean people.
Due largely to Tompkins, conservation efforts in Patagonia in particular are much healthier than in years past, Alvarez says.
"There's much more focus on reintroduction of ecology, reintroduction of species," he says. "For example, the reintroduction of pumas, and of the guanaco – the llama-like animal indigenous to the region. Those animals were prevalent there before the advent of large-scale farming."
Tompkin's legacy has helped Chile avoid much of the horrific fate of the Amazon River basin in nearby Brazil, which is currently being clearcut at an alarming rate.
"People are awakening to the threat of native forests being clearcut and sold for pulp to multinational companies," Alvarez says.
"Typically working people have been less likely to be pro-conservation, and conservation was a luxury for the wealthy. But people in Chile especially are realizing that tourism is potentially a much bigger and more sustainable source of income. If you clearcut your forests, that's a one-time deal."
Alvarez says that Chile is now focusing on being a "world-class destination" for outdoor adventuring and ecotourism. His own company, Bio Bio Expeditions Worldwide, has never been busier, he says.
Alvarez was with Tompkins when he died in the hospital. On that fateful December 8, 2015, after the storm wreaked havoc, Alvarez and another kayaker decided to get in a two-person kayak and try and save the group who hadn't been able to land on the small island to seek shelter.
"Jib Ellison and myself decided to go back out to be part of the rescue team. We were the ones in the group with Class 5 paddling experience," Alvarez remembers. "Usually the protocol in a wilderness setting is you don't want to turn yourself into another rescuee – you don't want to compound the problem."
Alvarez and Ellison were able to pull Ridgeway to shore.
"We were able to do it because it was a two-person kayak," Alvarez says. "Pulling a person behind you in a kayak is like dragging a railroad tie. A single-person kayak just doesn't generate enough pulling power."
Boyles reached Doug Tompkins in a single kayak without success. A helicopter had to tow both to shore.
"Doug still had a heartbeat," Alvarez recalls. "It was a live rescue, not a body recovery. The helicopter shouldn't even have been flying in that weather, but the pilot was ex-Chilean military and decided he could do it."
While Wild Life discusses the rescue and Tompkins' death, the focus is on his legacy – particularly through his widow Kris.
"The flipside of the rescue story is that this is a true human interest story," Alvarez says.
Mountainfilm on Tour Savannah's annual Honoring Our Veterans is scheduled forThursday, November 9, 2023, and will feature a screening of the award-winning film, Wild Life.
The program at Service Brewing Company will include a short film before the feature and live Q & A with world-class kayaker and film subject, Lorenzo Alvarez.
The event will kick off with a social hour at 6:00 PM, with Service Beer and food trucks. Showtime is at 7:00 PM.
The event is free to all veterans. General admission is $25.
Tickets can be purchased at https://honoringourvets.eventbrite.com
Veterans: Please text 912.344.1278 to reserve a spot.