MANY a night in the early 2000s, in big cities like San Francisco and New York City, the straights would be enjoying a chill evening in their favorite bar when, suddenly, the gays came. They'd show up nearly a hundred deep, no reservations or Facebook events to tip anyone off, and take over the bar for the night, playing queer anthems and taking up space.
In Chicago, Pablo Villareal was part of the "guerrilla gay bar" takeover in his early twenties. It made a lasting impression on him, and when he moved to Savannah two years ago, he vowed to keep the tradition going—with one slight amendment.
"I loved the concept, except I wanted to be a little more mindful—I'm going to call the bar," he laughs. "'Hey, are you okay if we come take over your bar on one of your non-busy nights and make it queer for the evening?'"
Thus, Gorilla Gay Bar was born one year ago as a solution to the dearth of gay bars in Savannah. Club One was once the most popular gay bar in the city thanks to Lady Chablis, but now it's just the gay bar in Savannah after Chuck's closed a few years back. Gorilla Gay Bar seeks to create more safe spaces for queer people to have fun in the city, and in so doing filling an important void.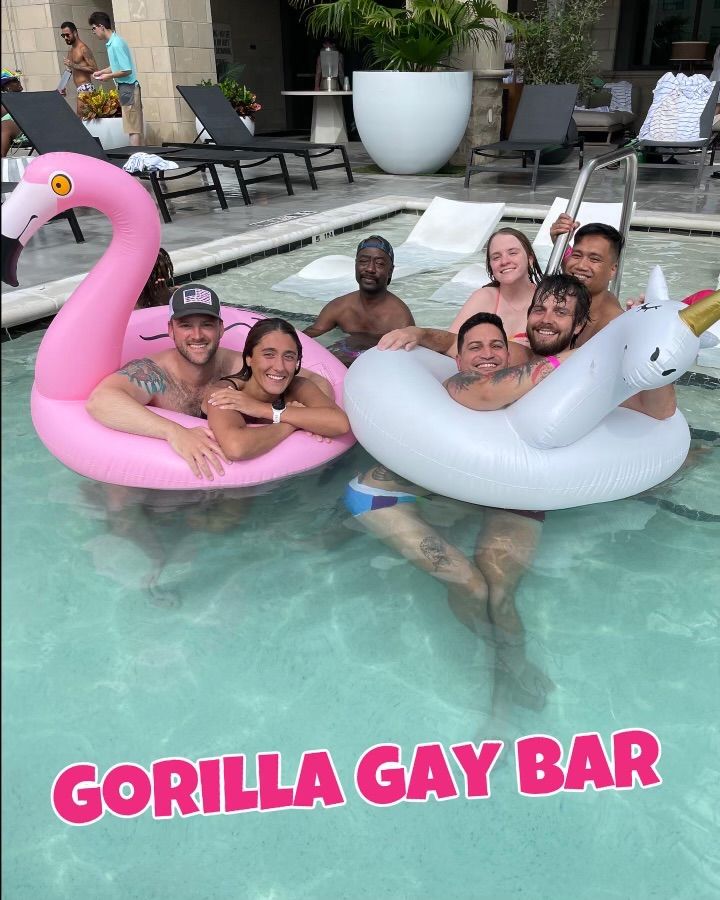 Gay bars are an integral part of queer history because they served as desperately-needed safe havens for queer folks. It might not seem important today, thanks to the great strides we've made in accepting people of all sexual orientations and gender identities, but the world was not as welcoming years ago—and, in some parts of the country, still isn't.
In decades past, bars would often refuse to serve gay patrons because homosexuality was illegal in the United States in the 1950s. As a result, early gay bars were discreet in an effort to avoid raids and often run by organized crime groups because other owners were afraid of the illegal nature of gay bars.
The Stonewall riots, which happened 53 years ago on June 28, were the seminal event in queer liberation, and they happened in response to a police raid on the gay-friendly Stonewall Inn in New York City. After the days-long riot, queer activists organized for liberation, and the first Pride events happened the next year in commemoration of the event.
In short, gay bars were the flashpoint for queer liberation and shaped Pride as we know it now. A safe gathering place for queer people is still a necessity, especially for trans, nonbinary and other folks that are more often the victims of fatal hate crimes. And while Savannah is, for the most part, a welcoming community, we still need bars that are explicitly safe spaces for queer folks.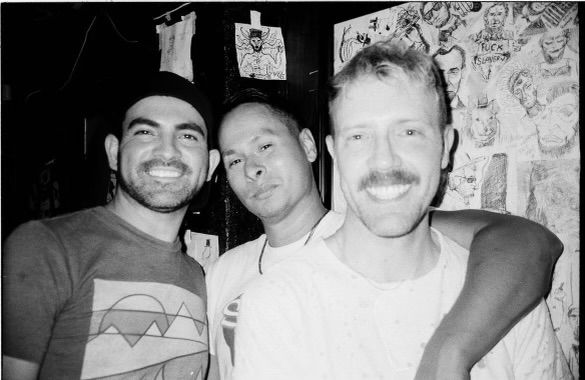 Villareal grew up in Chicago and lived in New York City, and those big cities had an abundance of queer-safe spaces.
"I had that experience of growing up in a big city, of having access: if you wanted to go to showtunes night, if you wanted to see drag queens, if you wanted to dance, if you wanted hip-hop, you had all those different things within the community," remembers Villareal. "And that was one of my driving forces in Savannah: we don't have those options, and I don't want this generation to miss out on what I experienced just because I grew up in a big city."
So Villareal started the Gorilla Gay Bar Instagram account to plan a party and see who was interested. The first party was at Lone Wolf and people turned out for the fun, proving to Villareal the desperate need for queer-safe spaces.
Now, Gorilla Gay Bar events draw a big crowd. In addition to their monthly residency night at Vice Lounge, they hold one-off events and pool parties atop the Thompson Hotel. Their Halloween pool party drew their biggest crowd yet of over 200 people, but most events consistently draw about a hundred people.
"We've gone from just a party to a community gathering," says Villareal. "That's what Gorilla Gay Bar is about: being welcoming, a sense of community. I remember when you're young and you're first coming out somewhere, and you want friends but you don't have friends. Whether you're an introvert or an extrovert, sometimes it's not comfortable, so I try to create that environment where everyone is welcome."
Ever the gracious host, Villareal bops around each party, approaching the wallflowers to ask if they're having a good time and how they heard of Gorilla Gay Bar, and he thanks everyone for attending.
As a safe space, Gorilla Gay Bar events are welcoming to everyone, regardless of how you present or where you are within the LGBTQIA+ rainbow.
"We've always been a haven, like Foster's Home for Imaginary Friends," laughs Villareal. "We've been that welcoming base, and it's an honor to know that people feel comfortable, that we can be community for them. Especially the way the world is now in 2022, with so many different gender identities, people being whoever they truly identify as, I think it's a beautiful time to be alive, to see the queer community so much more open and liberated from in my twenties. And that's just a 20-year difference. It's beautiful to see the progression."
Since starting up a year ago, Gorilla Gay Bar has hosted events at Lone Wolf, Abe's on Lincoln, the Wormhole, the Lost Square at the Alida, and the Thompson. As their popularity grows, they're branching out into theme nights, like the recent Britney Night and Pop Latina Night.
This Wednesday, the anniversary party, Electric Chapel, is a tribute to Lady Gaga and the Born This Way album.
"It's very iconic within the LGBTQ community—that's where the song 'Born This Way' came from, and it's a staple of every single Pride parade—but it's also the sexiness, the edginess, the punk element, the pop," explains Villareal. "It's a really fun concept where we're pushing the envelope of how you can have fun."
Then, on Thursday, Gorilla Gay Bar has its biggest event yet: Pride on the Catwalk at the Enmarket Arena. Four local drag performers will take the stage, and the audience can expect a voguing competition with prizes for the winners.
"It's a huge platform, and it melts my heart that we're able to partner with individuals who open their doors to create more safe spaces," says Villareal.
The weight of the moment is not lost on Villareal: going from small, hidden bars to a literal arena that seats hundreds is an apt metaphor for queer liberation and visibility. That queer people can now feel safe and proud to be out in so many places across Savannah is a true victory.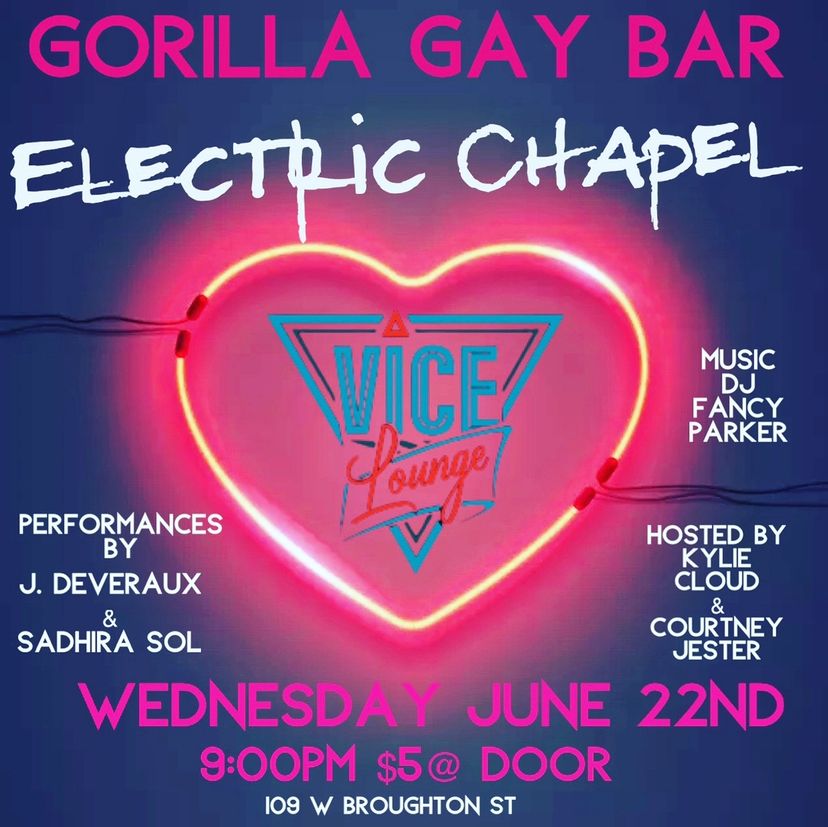 "If you haven't been to a Gorilla Gay Bar event, what are you waiting for? In the words of Kylie Minogue, what's the point of living if you don't wanna dance?" Villareal laughs.
And oh, yeah: dancing is a must.
"Everyone who goes to the party knows I'm a dancing machine. You're almost not allowed to come to the party and leave without dancing," he says. "Like my aunt used to say, you're on the dance floor, you have to dance."
We asked Pablo to send us his ideal Pride playlist, and he delivered: