CHARLIE ELLIS is not only working hard to get ready for the third year of his unique outdoor art show, SLAM (Savannah Local Artist Market), happening next month.
He's rebuilding his home, and indeed his life, after a disastrous fire.
On May 19, 2020, his marshfront house at "Pojo Point" on Turner's Rock burned to the ground. He lost everything, including the thousands of items of found and outsider art that made up his vast, mostly outdoor art collection, the fruit of decades of collecting.
"It's all gone," Ellis says simply.
Still spry and quite active at nearly 80 years old, he is now getting a new house ready on the same spot.
"It's all-new. We're still working on it, but the electricity and heat are on," Ellis says, with his typical glass-half-full optimism and never-say-die attitude that have been so much of an inspiration to friends and colleagues through the years.
(If his name sounds familiar, it is indeed Ellis's grandfather for whom Charles Ellis Montessori Academy is named.)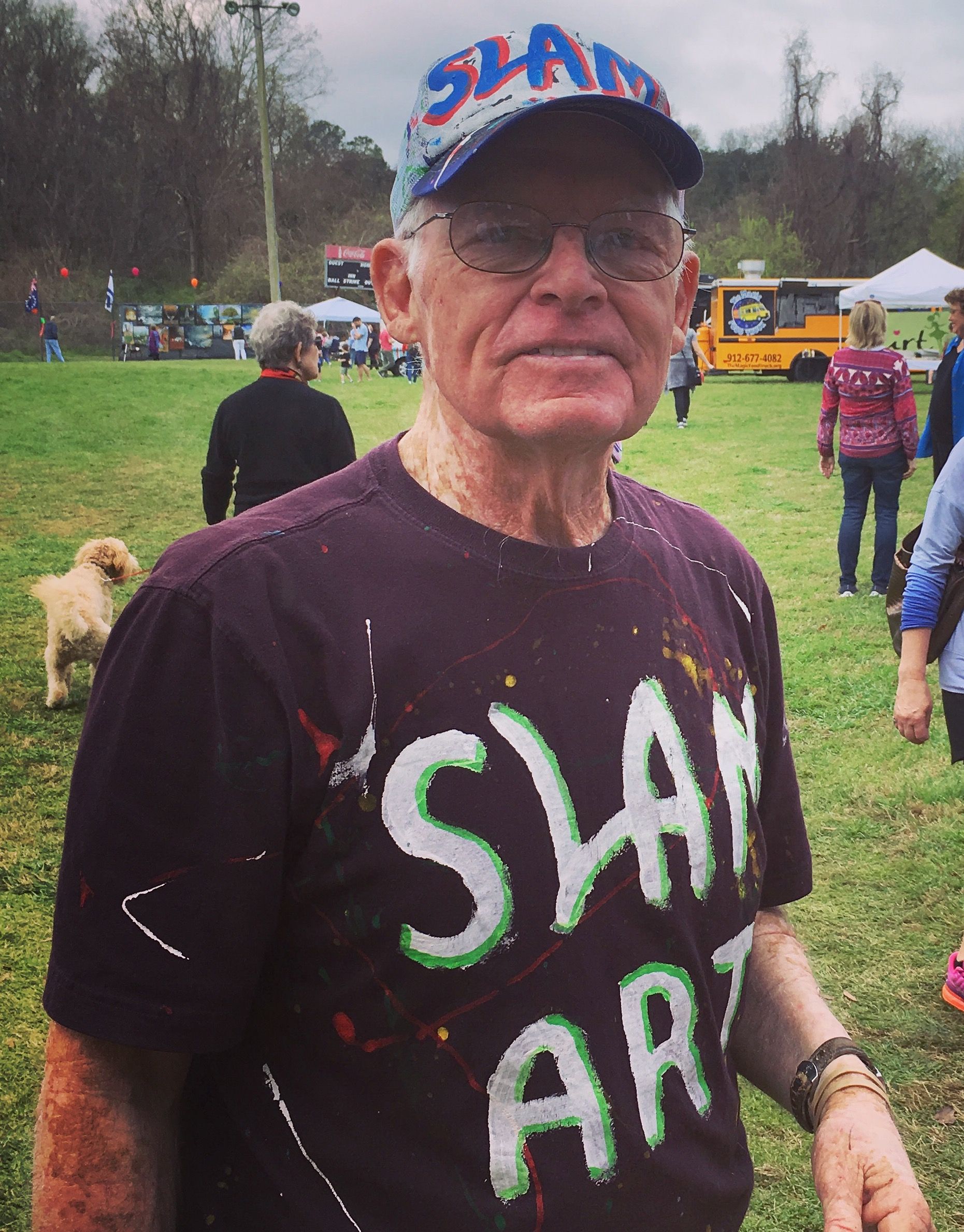 While most people half his age or younger would have long since given up on the idea of also putting on an art show during such a tumultuous time, Ellis is moving full steam ahead with SLAM.
The event, held March 6 at the Salvation Army baseball field off Bee Road, features dozens of local artists, their work arranged on the tall fence around the field, in an all-outdoor, socially distanced art show.
"A couple of months ago I checked in with the Salvation Army and asked, 'Are we still on?' They said, yes, we love it, we want to do it!'" Ellis says.
"We've got about 40 committed artists already, they've really come out of the woodwork. I expected a bit of a drop-off in participation from last year, but that's not what's happening. And I'm expecting more to sign up as we get closer to the event," he says.
A few of the artists who are already onboard are Stella Renae von Schmid, Jim Cone, Liz Juneau, Holly Montfort, Shawn Turner, Jack Wilson, Tiffany O'Brien, and Peggy Jo Aughtry.
"All the art is produced by local artisans. It's not a craft show. I don't want it all cluttered like a flea market," Ellis explains.
"When they email and show interest, I ask that they send me pictures of their work. I've not had to reject anyone so far. It's good for the artists to see what sells and what doesn't. It's a good test for them."
The area is especially ripe for a big art show this year, Ellis says, and not just because the pandemic has drastically reduced cultural and social opportunities.
"The Isle of Hope art show, which is probably the largest art show or one of the largest in the whole area, didn't happen this past fall," he says.
The inspiration for SLAM came out of Ellis's long experience in collecting art of all kinds, from many places – as well as a desire to get the public more involved in enjoying art.
"I'm not a real artist, but I do love and collect art. I was thinking, wouldn't it be nice to have a big art show, that's open to a wide range of local artists," he recalls.
"Just to make sure I wasn't being unrealistic, I went to three different local art clubs, one in Savannah, one on Tybee, and one at the Landings. I asked them all the same question: Are there too many art shows now, the right amount, or not enough? And all of them said, without hesitation, that there aren't enough."
The first SLAM was in 2019.
"I had originally asked the City about using Daffin Park for the event. That meeting didn't end up with an agreement, but as I was driving away I passed the Salvation Army and its ball park with that big, tall fence," he remembers.
"I realized the fence was what could pull it all together. You can arrange the art all along the fence, and make that part of the show. So I stopped in and talked to them about it, and they were very happy to host it."
The 2020 edition was as big a success as the inaugural SLAM. The food trucks were such a big hit, Ellis says, that a third one will be added to meet demand for this year's edition.
"Last year it was on Feb. 29, Leap Day," Ellis says. "There had been rumblings about a new flu-like disease, but of course Trump told everybody it was no big deal (laughs). COVID didn't start hitting the headlines until some time after."
Saying the outdoor show is "tailor-made" for safety and social distancing in the pandemic era, Ellis says the health of artists and attendees is uppermost in his mind.
"We will have large signs and only two entrances, saying 'Do not enter unless you have a mask.' We will have an off-duty police officer who will escort people out if they don't have a mask, or don't put one on. We're going to be very strict about that."
In 2020, the show awarded four prizes for the most creative entries. "It was so popular that we are increasing it to six prizes this year," Ellis says.
But there's a twist, he relates: The prizes will be in 'SLAMARAMA' dollars, i.e. a $50 certificate that can only be used to purchase something from another artist.
"The artist will give the SLAMARAMA certificate to me and I will give him/her $50 real money," says Ellis of this way to reinforce mutual support in the artist community.

SLAM (Savannah Local Artists Market)
Saturday, March 6, 10am-5pm, Salvation Army Community Center, Bee Road (event entrance is at ball field behind main building)
Free and open to the public, art available for purchase, food trucks on site