SAVANNAHIANS got a closer look at proposed changes to the St. Patrick's Day celebration yesterday when City staff made a detailed presentation to City Council — who will eventually have to vote on the changes.
Billed as an effort to "make local businesses rethink St. Patrick's Day," the list is a mixed bag of positive tweaks and at least one very controversial proposal: banning any live entertainment on any public property in the festival zone.
The biggest single change, as expected, is the dramatic expansion of the to-go cup zone for one day, Thursday, March 17.
Savannah's already very liberal open container policy will now extend all the way south to parts of Victory Drive, bounded on the east by the Truman Parkway.
The expanded eastern border will allow new upscale development at Eastern Wharf, usually outside the zone, to be included.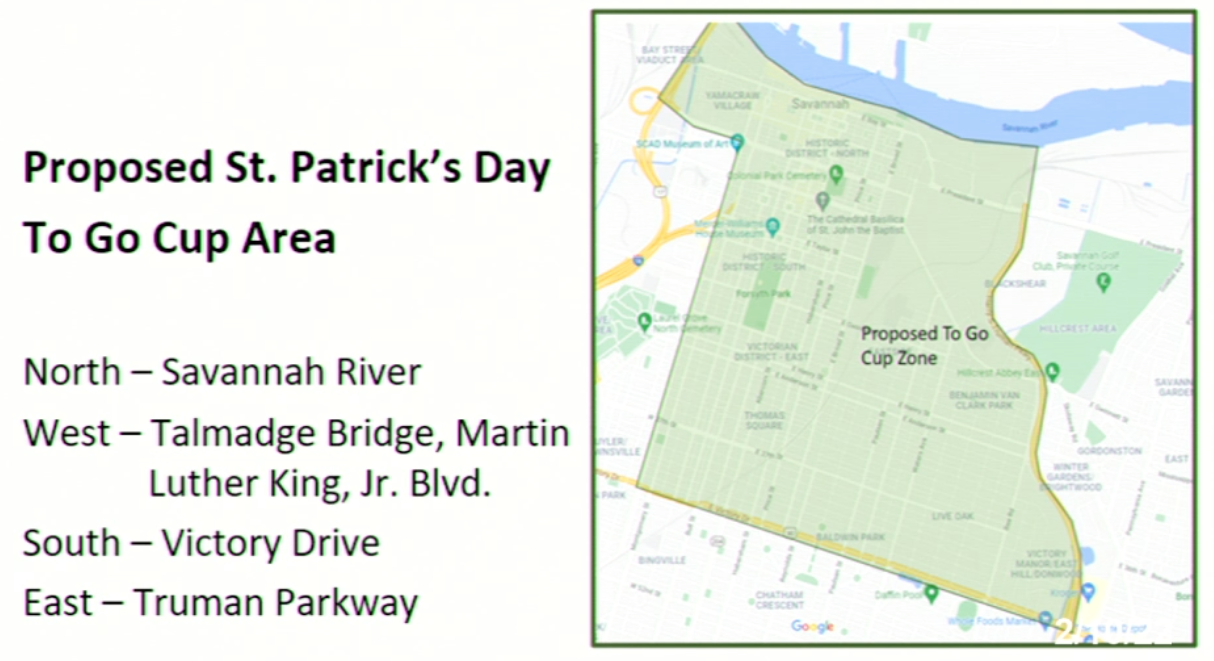 Interestingly, for all the talk about how the expansion was intended to be more inclusive of a more diverse range of local businesses, the western border isn't extended much into West Savannah at all. The usual to-go cup border of MLK Jr. Boulevard remains for the most part, with one carveout to the northwest, where the bulk of the new high-dollar development is happening.
"This is an opportunity for [to-go cups] not to be limited to the downtown area," said Mayor Van Johnson. "And this was the right year for us to try it. Thursdays are typically lower-volume days" in terms of the scope of the St. Patrick's celebration.
Making the presentation to Council, City Director of Special Events, Film & Tourism Susan Broker (pictured in lead photo) admitted that the Victory Drive border was mostly "an arbitrary line."
The City chose that border, she said, "because we've had such development on the south end of Bull Street, and in that area."
When asked about the possibility of extending the to-go cup zone much deeper into the non-pedestrian friendly Southside, City Manager Jay Melder explained his general opposition: "A to-go cup in some of those areas would essentially mean a to-go cup in your car."
In an intriguing line of dialogue, Alderwoman Bernetta Lanier, who represents much of West Savannah, floated the idea of the to-go cup zone being expanded in future years all the way into the burgeoning "Canal District," site of the new Enmarket Arena.
"As the Canal District starts to develop, I'm sure at some point that area will be included possibly in the zone," Lanier mused.
To which Broker immediately responded, "Absolutely."
The expansion of the to-go cup zone would seem to be counterintuitive given the general anti-alcohol stance which has characterized much of this Council's tenure. Drunken holidays "are not our brand," Johnson said, in a tacit acknowledgement that drunken holidays may indeed have been part of our brand.
While other members of Council expressed minor reservations, Alderwoman Kesha Gibson-Carter was the only member of Council to completely oppose the to-go cup expansion, and she did so more on the basis of "grossly understaffed" police coverage, citing a shortage of at least 100 officers currently.
"This is the absolute worst time to extend this and test it," Gibson-Carter said. "A better time would be outside St. Patrick's Day."
She cited an example of what she considers a double standard about to-go cups: the occasional controversy about Sey Hey Lounge, a legendary hangout in the Starland area that was usually a focal point for community street parties on MLK Day.
"Residents and neighbors complained, and that was for a period of four hours… for one block on Bull Street," she said. "And now we're entertaining a recommendation to extend the to-go cup zone."
Melder responded that the idea is to "decentralize" the kind of mass, in-close drinking crowds often seen on River Street after the parade, and that "we wouldn't be recommending any changes to the ordinance that we felt we couldn't enforce."
With the conspicuous exception of the to-go cup expansion, the other moves by the City are more directly intended both to cut down on street-level drinking and ostensibly to promote local businesses — though there is a good deal of argument over the latter point.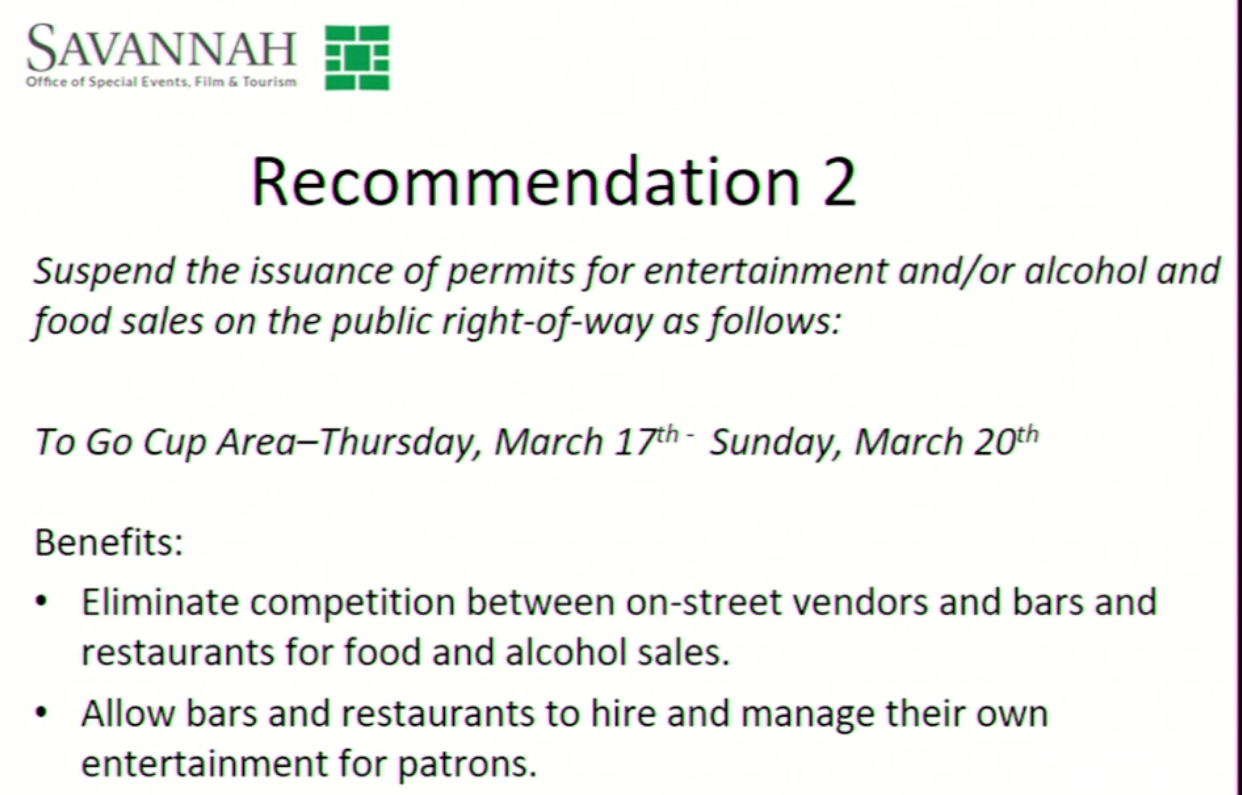 Easily the most controversial aspect of the changes is the specific refusal of the City to issue permits for any live entertainment on any City-owned right of way.
Alderman Nick Palumbo was the only member of Council to address concerns about the live music ban, which many local musicians have taken offense to since it was first proposed two weeks ago.
St. Patrick's Day "is a lifeline for local musicians, they can make significant funding that day — where can they perform?" Palumbo asked Broker.
Broker answered, "I'd encourage [local musicians] to participate in any venue" that offers live entertainment.
She explained that the idea was that the City is "not going to compete" with private business establishments that might want live entertainment on their own premises.
Melder said the move gives local musicians "an opportunity to play in more establishments than just a handful of public stages" — though to be fair that opportunity has always been there, during any St. Patrick's Day celebration
Johnson added, "Public stages often bring in musicians from out of town."
Later, Palumbo told The Savannahian that "I don't believe the City should restrict performances on private rights-of-way and believe that outdoor music and live performances are a valued part of the holiday experience."
An interesting conversation developed around the proposal to ban out-of-town charter buses from parking in the festival zone on St. Patrick's Day.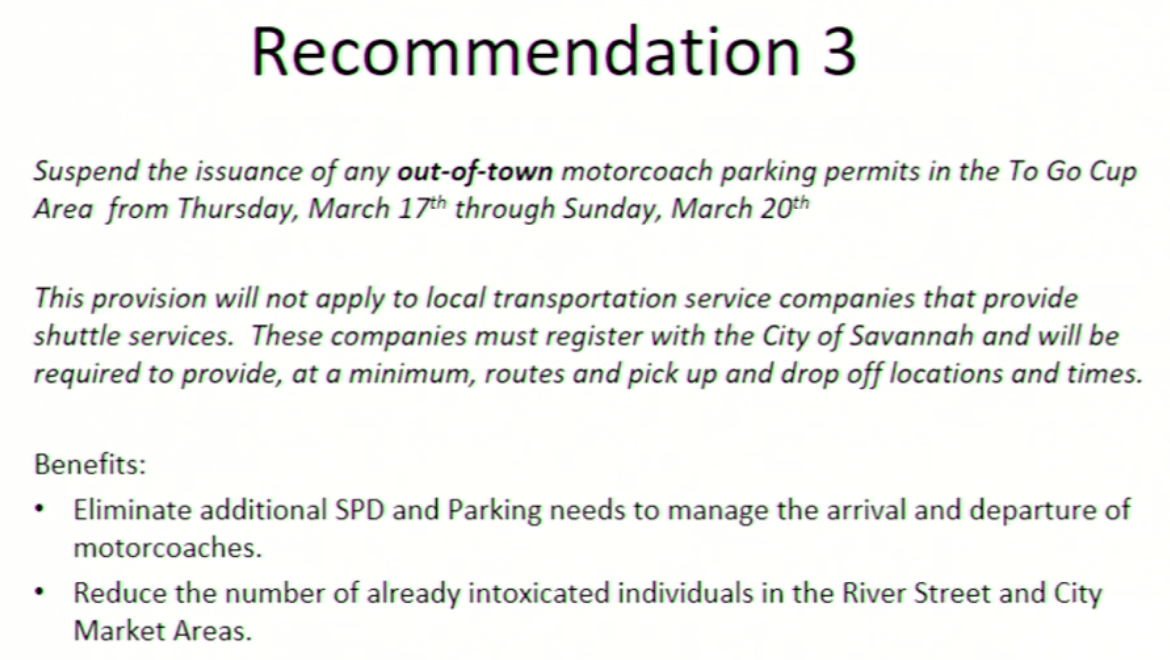 In years past, the large "party buses" have rolled in and out of town with their inebriated passengers – much to the chagrin of Visit Savannah and the local hotel industry, who would prefer that they all book rooms here to sleep off their hangovers instead.
"Some of them arrive at 11 p.m. the night before St. Patrick's Day and don't leave until 4 in the morning" the day after, said Broker of the big buses.
City staff specifically pointed out the business opportunity for Southside businesses to capitalize on the bus ban — by allowing them to park there and party instead, outside the official festival zone.
The ban on permits is set to include alcohol sales on public rights of way. In years past, the Savannah Waterfront Association and Downtown Business Association, as nonprofits, were allowed to secure temporary alcohol licenses to sell beverages on the street.
Johnson and City staff say they want to halt that practice, to be more fair to local businesses. All alcohol sales on St. Patrick's Day would be required to be on-premises, by private establishments.
However, there will be food trucks permitted on a specific parcel, most likely in the area of the Cottonsail Hotel on Bay Street, Broker said.
All the proposals are open to further changes and tweaking by Council, who are expected to vote on the agreed-upon slate of proposals on Feb. 24.