By Kendra Clark | Photos by Laura Mulder

COMING into the race as the incumbent with 16 years experience as an alderman, Van Johnson has seen the ups and downs of City Council.
We spoke with Johnson about his first year in office and his re-election campaign.
What led you to get into politics?
I think that it kind of found me. I was always a very community engaged person. I was involved in the communities and neighborhoods where I lived. I wrote for a local newspaper, The Savannah Tribune, where I had a weekly column. I hosted a radio show called Open Line Outreach that was a community and current affairs show. I served on boards of organizations. I initially never really conceived being in local elected office. The opportunity came about and somebody asked and I was like, why not me. So I ended up in public office.
When it comes to you role as mayor, if you get re-elected, what do you see as the role of the mayor and how it interacts with the rest of the City Council?
The role of the mayor is to do a couple of things. I am the top leader but I see myself as the top servant. My role is to serve. Now, serve means different things to different people, depending on where you live, what your needs are, and so you have to be able to be all things to all people. And hence, my style has been to be really engaged with the people, meeting people where the are, and addressing their needs. Doing all that at the same time can be challenging but I feel my experience in public service both on the political and practitioner side has afforded me the opportunity to have an expert knowledge of how government works. It has helped me to effect some things that have been beneficial to the community.
During your time as mayor, what would you say is the thing you're most proud of?
Probably leading this community through COVID-19. It was certainly an unprecedented challenge for the world, certainly for our city. There was no playbook. There was not a body of information. For the city, we were able to not only keep people safe, but also to keep our businesses open, keep our economy running. Savannah has fared better than many cities in this country as it relates to the pandemic. We engaged people. We engaged businesses and neighborhoods and houses of faith to not only lessen our exposure but to also maximize opportunities to be able to operate in a COVID environment.
One of the biggest disagreements between you and your opponent has been the process by which things are placed on the City Council agenda. Can you explain to people what that process currently is and why you think it works?
So prior to this administration, there were two ways things got on the agenda. Administratively, through the city manager, or by the mayor. And I know it because I served it. So I knew that if I wanted something to be on the agenda, then I had to go to the mayor. Sometimes I was successful. Sometimes I wasn't. I felt that the purpose of the agenda is to do one thing, it's to act. You put things on the agenda to act on something, to vote yes or no on something.
And so I added that a majority of council, that any five council members can vote to put something on the agenda with or without my blessing. So I actually added a component to get something on the agenda.
The reason why it's five is because if the majority of Council doesn't want to discuss it, then the majority of Council doesn't want to act. So what we do have, which Mrs. Gibson-Carter conveniently forgets, is we have a workshop agenda. The purpose of the workshop is we talked about stuff, we learn about stuff, we explore ideas, and we get information about stuff.
She and other council members can submit the things they want to talk about in the workshop. And so in these workshops we talk about whatever people want to talk about, and if it's decided that we want to move forward and put something on the agenda, we do that. But to put something on the agenda that the majority of council does not want to act on, or the staff was not prepared to act on, it's not productive, and it certainly does not give our staff time to prepare.
That's what the challenge has been. They keep saying the agenda, the agenda, the agenda, but the agenda is only if you're going to act. The purpose of the agenda is if you have a good idea, then you create the opportunity to communicate with your fellow council members and you build consensus among your council members.
Well, she doesn't build consensus. She doesn't talk to anybody. She doesn't communicate with anyone. City Council is a team sport. It's a team sport that requires votes to be able to get things passed. If you're not willing to build relationships, build consensus with your colleagues, then it's gonna be very difficult to be able to get things done to that end.
For example, there was the issue of term limits for council members. Now, I didn't necessarily agree with it, but the majority of the aldermen wanted it. Some of them campaigned on it. I didn't necessarily agree to agree with it because I think that people, the electorate, gets to decide when someone's term is up. If you have someone who's doing a good job, it takes some time to kind of build the wherewithal to really be effective in elected office.
So I didn't necessarily agree with it but five council members wanted it so it goes on the agenda. But I created through this, because of my experience on council, a way for council members to be empowered to get things on the agenda. That did not exist before.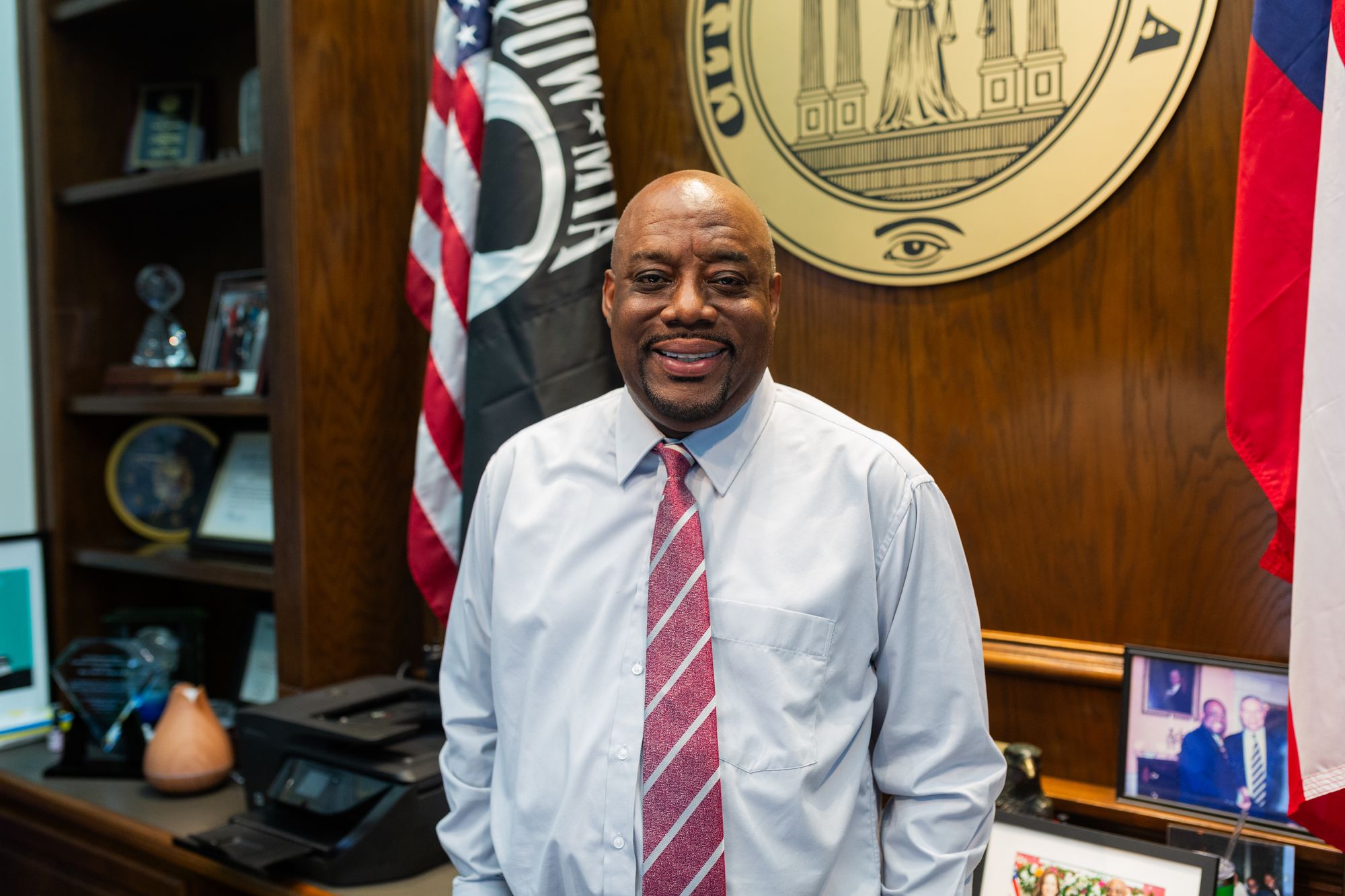 One of the criticisms of the current City Council is how adversarial it has been. What do you think is the answer to make that better?
We have to elect grownups. I have been on councils where I've was voting with the majority and during the last council, I was not. I disagreed about a bunch of stuff, sometimes vehemently disagree. I was never disrespectful to the mayor. I was never disrespectful to other council members.
As a matter of fact, we could disagree in council chambers, and then go eat right afterwards because we recognize that it's not personal. I maintain those relationships even to this day.
In this case, we have some unprecedented actions occur. We had a council member who was found culpable on two ethics complaints regarding her actions and her behavior toward other council members.That had not happened before.
The same council member was removed from her position of leadership within the council because for continued behavior. Again, I don't think that's ever happened.
We adopted the council manager form of government. We introduced the civility ordinance in conjunction with the Georgia Municipal Association. We're the first city to do so and we couldn't be unanimous on that. It was to agree to nine pillars of civility, and three members did not agree to be civil.
You know, at the end of the day, I'm confident that my behavior toward my council members has always been collegial, even when I did not agree with them, even when they were disrespectful toward me, even when they were threatening towards me. I've still treated them with that respect and so I hope that our community recognizes that and that they'll elect people that will carry themselves in a manner that's befitting of the office that they were elected to serve.
To get into the issues, if you could snap your fingers and have one policy go into effect overnight with no opposition, what would it be?
Housing. Savannah is the victim of her own success, and this is happening across the country. Savannah is now a desirable place to live. As a result, people are moving here purchasing sight unseen. They have the funds to be able to do it. It is shifting our demographics and is increasingly making it difficult for Savannahians to obtain housing that's affordable. And so I think that will be the the thing that I would do immediately that everyone in Savannah would have an affordable place to live.
That leads right into our next question. When it comes to affordable housing, what do you think is a solution?
Well, I think one of the things I'm proudest of was that Savannah did not have an affordable housing plan. I committed to doing that and the Housing Savannah Taskforce was created. From the Housing Savannah Taskforce came the Housing Savannah Action Plan, which recommended the creation of an NGO, a non governmental organization, which is now called Housing Savannah Incorporated, in which we've made unprecedented investments toward the Savannah Affordable Housing Fund.
As a matter of fact, within a year we've had two of our largest contributions to that. We just celebrated a an agreement with the Georgia Ports Authority for a $6 billion donation to the Savannah Affordable Housing Fund, $750,000 a year for eight years, to specifically address home repair and first time home ownership of houses in the westside communities and port side communities.
This has never happened before. So it's not only about obtaining new housing, it's about helping people to remain in housing.
We were able to do the same thing with The Galvan Foundation who made a million dollar investment in the Cuyler Brownsville neighborhood. In addition to helping to restore and build housing, SCAD worked with us to build a 20+ affordable housing development right in the downtown area.
So we need more of that. We need more density and the plan helps us to get there. For the city it's about finding partners and engaging partners to help us push the work forward.
One of the other concerns that goes hand in hand with the issue of affordable housing is the number of homeless individuals we have in Savannah. What are some solutions the city can utilize to address that?
Well, again, I'm very proud of the work that the city has done. During my tenure, work that has not happened before. All of our homeless agencies are now working in tandem. We have the Interagency Council on Homelessness, which is all of our homeless agencies working together. The City of Savannah has funded a day center at Union Mission and several other centers around the community to create places for our roofless neighbors to go during the course of the day to receive services, to eat, to bathe, and just to be out of the elements.
We've also partnered with the Chatham Savannah Authority for the Homeless to fund a street team. The street team is made up of individual professionals that are out in the neighborhoods and in the campsites, interacting directly with these individuals. They know who they are, help to identify what their needs are, and are able to individually address their needs.
We work with Union Mission, with the Parkers house, which is the first regional shelter for unaccompanied women. They just celebrated a one year anniversary. We're working with the Homelss Authority and their Give Change That Counts campaign, which supports the centers are reducing panhandling. We have all of these agencies working together now to be able to address the issue, but for me, more importantly, to treat people like human beings and giving them the dignity that they deserve.
We have people call us to say that they're sitting in the parks. They ask to get rid of them, they're unsightly. First of all, the law says we can't constitutionally. It's a public space. People are allowed to be there. If they want to sleep in a park, they can sleep in the park. We're not going to violate their rights and we're not going to treat them like criminals. We will address criminal behavior, if they're doing it, but by and large, they're not. And so, if we're going to be welcoming to tourists, we'll be welcoming to everybody.
Another topic of concern for many residents is crime. What do you believe is the root cause of crime and how do you plan to address it?
Well, crime is a function of people: people either in violent crimes issues and disputes; sometimes issues of opportunity, some time issues of economics. To date this year, our violent crime is low. Last year, from December 23 through mid March, we had no homicides in the city, which was the first time in 20 years that we achieved that.
You know, the word is crime, but we really look at it as a whole community approach as it relates to public safety, and there's so many pieces to it. There is a policing part. When other communities were defunding the police, we were investing in our police, investing in technology to help them do their work more efficiently. We voted to pay our police officers $50,000 a year to lead the region and help recruit the best and brightest. As a side note, my opponent voted against that.
We have invested in a behavior health unit to address issues of mental illness because sometimes it's not criminality, sometimes they have mental illness. We've hired a behavioral health and mental health specialist to go out on calls and address it from a behavioral health side, which hopefully helps deescalate the situation and get the person help.
We have the ONSE office, the Office of Neighborhood Safety and Engagement. This is our non-law enforcement, community based public safety approach in which we have trusted and credible messengers in communities. They are feeling the temperature of the community, seeing what's going on in the community, and basically engaging before something happens.
Now we have some challenges. The first challenge is that we are very short police officers. That's a function that's happening around the nation, that people don't want to be the police. We want to make sure that we have good police officers. I'm sure we can hire a bunch of people but I want us to make sure we are hiring quality and not quantity. But you know, major crimes have been down and that's a testament to the work of the Savannah Police Department.
The second challenge is guns. In a state where guns are allowed everywhere, it's a challenge when gun show up everywhere. We've had over 150 guns stolen to date this year from unlocked cars, and these guns find their way into crime scenes across the the region. We need to make sure that it's easier to get a driver's license than it is to get a gun. And so that's something that we're dealing with.
We're dealing with issues of prosecution. My position is if you're pulling the trigger in this community, you need to go away for a long time. And my wish is that our prosecutors aggressively prosecute those who pull the trigger to this community. To that end, the City Council hired a federal prosecutor and assistant US attorneys to specifically prosecute gun and gang crimes that reached the federal standard.
Federal time is a lot different than state time, but again, we're serious about getting these people off the streets. We know that a lot of these folks are our repeat shoppers and we want to make sure that they are put away from this community for a very long time.
And then there are issues regarding public safety as it relates to lighting and structures and blighted structures and how do you address those in a way that lessens the opportunity for crime to occur. Again, you say crime, I say public safety.
We have started to outfit our firefighters to be providing basic life support because they were responding faster than EMS at times. And so we've dispatched them to address very basic life support issues until EMS arrives. They have saved some lives by being able to do that. So for us this is a multi-prong and multi-dimensional approach.
We've already talked a bit about how Savannah has been a victim of its own success. We've seen it grow and we've seen tourism boom. How do we as a city find the balance between tourism and the residents of the city?
Well, that is the constant calibration that's required. I often say that everybody likes to visit Disney World but nobody wants to live there. And so what makes Savannah so attractive is the fact that our history, our architecture all occur in a place where people live. So it requires constant communication, coordination, and collaboration between our business community, our tourism community, and our neighbors to make sure that we maintain a livability.
I've been talking with neighbors about creating a livability taskforce to be able to address those issues of livability. We want to really drill down on our 24 hour city initiative because we know that our city is different at 12 noon on Friday than 12 midnight on Friday. It's different. It's different on Saturdays than it is on Thursdays. So we need to make sure we can address some of the concerns by having people in the street beyond police officers and fire, which are already there, but also sanitation and code enforcement. We can have those folks be able to address issues when they occur.
So a constant calibration has to occur because I never want to sacrifice livability for tourism. Savannah is a place to live first. So how do we do that in a way that is manageable, that is predictable, respects the resident's right to live but also respects the business's right to operate.
One thing that always comes up is SCAD and their continued growth in Savannah. I know that there have been discussions about implementing a PILOT, payment in lieu of taxes, program since they do not pay property taxes due to their nonprofit status. What is your opinion on implementing a PILOT program?
Well, first of all, I think that SCAD is a major influence. Its impact is felt and seen all over the community and certainly adds to our community. That being said, SCAD is also as a major user of our resources.So I think that beyond the things that SCAD naturally brings to Savannah, I think there's a responsibility to help the municipality, specifically to address some of our needs.
We cannot require them to do it, just like we can't require any educational institution or church or house of faith to do that, but I think SCAD fall into a little different category just because of its applicants. And payment in lieu of taxes is a concept that we can't force on to SCAD. We continue to discuss ways that we can partner that are beneficial to the City of Savannah. The housing development that SCAD did for us is indicative of some of that.
So I'm hoping that SCAD recognizes their responsibility to be able to help the city address its needs. They are our friends and our community members, and we will continue those conversations. And I'm hoping that soon we can come up with some type of agreement about a long range commitment to the city.
Is there anything else that you would like voters to know?
I think it's important people realize these are part time positions. I don't think people really realize that. So the people who serve in it, unless you were independently wealthy, or retired, or owned your own business, you know, it is very difficult to serve on City Council. For 16 years I worked a full time job with Chatham County, and served on the council at the same time. But I've been a full time Mayor, daily and on weekends, so it's full time work.
I don't think people realize the limits sometimes of city government as a relates to certain issues. People say "my rent is going up, you should stop them from making my rent go up." The State of Georgia says we can't. Or you should make SCAD pay money. Well, the state and federal government say that we can't. So there are some limitations.
But I think this administration has been able to really enlighten and to make some major, major moves in almost 4 years, two of of which were during a pandemic. I think that you will find a council that most of the time voted on things together. But I think that on the other end of it, people have to consider the individual behavior. You can disagree without being being disagreeable. You don't work collaboratively by spewing hate and mistruth about your colleagues. It doesn't make it very good working environment.
So it has been challenging over the last couple of years, operating in that environment. We're trying to pull people together, and really help people see the entirety of our community. We are a majority-minority counsel where, for the first time in our history we had seven African-Americans on the council. So when you look at the work that we've been doing as it relates to public safety, housing, economic development, these are things that have been able to help move black people forward.
On the other end of that, you don't do that to the exclusion of everybody else. We were elected to serve an entire community. And so, I hope that it shows that we did just that.
Also, Savannah is now recognized in the state through 100% Savannah, which deals with clean energy. It's something we're very proud of. You know, we're leading in clean energy. Very proud of that. We've been able to to help move those types of conversations.
Our millage rate is the lowest has been in 35 years, 12.20 mills. Although Miss Kesha says, we raised taxes, we didn't raise taxes. She doesn't understand taxes.
The city issues a millage rate. The school board issues a millage rate, which is like 17. They are higher than us. And then the county has one which is like 10. And then you have CAT (Chatham Area Transit) which is 1.1 something. Then your valuation is applied to those millage rates and that's how you can get your tax bill. So if your millage rate stays the same, but the value of your property goes up, then the tax that you pay goes up. It would not be because the city raises your taxes but because your assets have become more valuable.
So the city can decrease your taxes, decrease your millage but if the county and school board, keep it the same, your taxes could still go up based on your valuation. It was disingenuous to me that you had council members saying we were pricing people out of their homes, but I explained to them how the tax rate works and that you want your asset to appreciate in value.
But our millage rate at 12.20 is still the lowest it's been in 35 years. We don't price people out through the millage rate. You might be priced out for valuation, but again, we can't tell a landlord, due to state law, that you can't raise the rent. I would love to be able to say, let's do something more incrementally, but the law says we can't.
We have been more transparent than any Council in recent history. I've made it a point of being transparent and being very visible. Every Friday and every Tuesday for the last four years I've done a press conference. That's never happened before. Every Tuesday, a full wide ranging press conference in which the media is able to come and ask me about whatever's going on.
Every Saturday I do a Weekend Update to update our citizens of what's going on. Every Friday for the last 180+ weeks, I've done what's called Friday Live on my Facebook page, which creates the opportunity for me to engage with citizens to ask questions. And we've done that again for the last over 102 weeks. We have not missed a Friday night.
When it comes to our campaign disclosure reports, you used to have to do an open records request. Now you can go right on the clerk's website. This was us purposely and intentionally making sure that people don't have to dig for information. We want to provide the information ourselves. And so I'm proud of that.
I think I'm the best person to lead and continue to serve this community and I've shown the temperament. I can work with people, even people who can't necessarily agree with me. I have the ability to be present and I have been present. When the hurricanes come, I'm here. When shootings come, I'm on the scene. I'm at hospitals. I'm in neighborhoods, and you can't lead where you don't go.
I've been a district alderman for 16 years and I've been mayor for the last for the last four. I look forward to the challenge of doing bigger things and more impactful things the next time.
To learn more about Van Johnson or to contact his campaign team, go to wearesavannahstrong.com.
---
Like our City Council election coverage? Help us do more of this kind of work by making a donation.