By Lauren Ball

MOST Savannahians know of Kyle Brown through his past days booking at El Rocko or his nights performing in Chipper Bones, but few know of his new venture as the founder of local booking agency, Dog Days.
The first Dog Days event isn't just one show, but nineteen over the course of two jam-packed days and nights with HalfAth Music Event. Occurring June 25-26, HalfAth aims to bring the music culture of Athens, Georgia (the birthplace of Neutral Milk Hotel, REM, Of Montreal, Pylon, Love Tractor, and countless other seminal bands) to the Georgia coast.
You can buy tickets to HalfAth here, and be sure to check out the Dog Days Instagram page for teasers on each band.
We caught up with Brown to learn more about what Savannah has in store with Dog Days and HalfAth.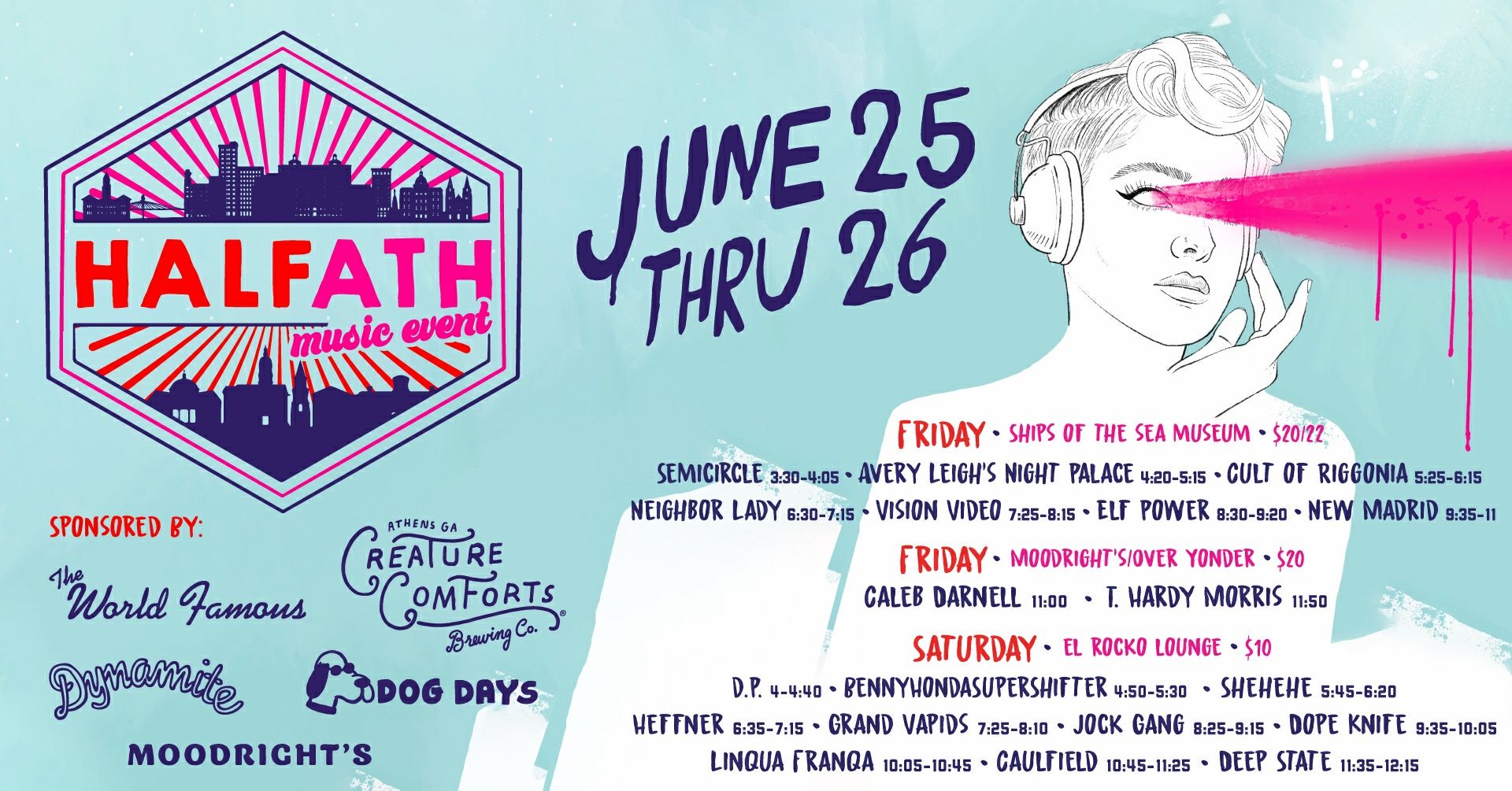 What made you want to start HalfAth?
I'm really good friends with the new owner of Over Yonder, David Eduardo. He's a big Athens guy. He's got lots of energy and ideas, and (HalfAth) was one that spoke to both of us. We thought, "AthFest isn't happening, it hasn't happened in so long, how crazy would it be if we just did it in Savannah? We're wide open compared to the rest of the country."
We sent a bunch of emails and everyone was down. It was really easy to get all the artists within two days. I used to book for Savannah Stopover and helped Kayne (Lanahan) in 2020. So we took the risk, found out what venues we could work with, and then it all came together.
David owns World Famous, which is a small bar and music venue in Athens. They do a lot of smaller shows, a lot of local shows, but then they'll also do big 40 Watt after parties. He told me that Jeff Mangum called him personally and said, "Hey, I want a Neutral Milk Hotel private show after our reunion tour." David was like, "I don't believe you, you're not Jeff Mangum," and hung up on him.
What's your connection like to the Athens scene? What made you want to focus on Athens specifically?
Everyone in the music industry has always been trying to connect the two sister cities, Athens and Savannah, to inspire the underperforming Savannah scene. Which, it is. I grew up in Charleston and used to book shows for El Rocko. I would constantly get Charleston bands because it's two hours away and it's a vibrant scene, but it just didn't click.
David's super excited about the Athens music scene, and we wanted to create a doorway between Athens and Savannah because there really hasn't been one. It's weird. Anyone who knows Georgia music knows how important Athens has been over the past two or three decades.
You just don't see that many Athens bands coming down to Savannah. It's a little too far and the places are almost a little too different. But there are a lot of similar people from similar walks of life in both places. Our ethos are similar – small, generally liberal cities, and into the arts. There are so many bands in Athens and we want to start trading shows and getting bands from both places another hometown. Every band really wants a second hometown. Before you start touring or start thinking about making money, if you can have 20-50 fans in a different town, then you're on the right track. You need to start small. If we can connect Savannah fans with Athens and Athens fans with Savannah, that's great.
I know you want to create this music connection between Athens and Savannah. Are you looking to create more connections, such as between Savannah and Atlanta?
With Dog Days, I hope to create relationships with local bands in multiple cities so that I can create a network of bands. That way, I can route people and find the right bands for the right scenes, and have a player in each town. If you believe in a couple of bands and you have them play in different towns, all of a sudden these bands have friends in six different southeastern cities.
That's the hope of Dog Days. It's not just a booking company. I want it to be a promotions company, a band management company…there will be more announcements coming up. I thought Dog Days was just a way for me to book shows, but it seems like it will be much more than that.
It's something Savannah really needs at this point as the pandemic's settling down.
I thought I was done. I left El Rocko, then the pandemic happened, and then I started my own band and thought, "That's all I'm gonna do." But while trying to book shows I thought, "Man, nobody's doing it? Am I really going to have to organize this show?" Even to book my own shows, I have to pull so many people together. So I decided, "Alright, I'm going to be this guy. The guy that tries to make stuff happen."
What HalfAth sets are you most excited for?
I'm very excited for Avery Leigh's Night Palace. It's pretty early at Ships of the Sea. She makes the best dream pop I've heard in the while. For a small band, it's so polished and wonderful.
How is HalfAth going to be different from Stopover?
Stopover is a marathon. HalfAth is a sprint. There are seven bands playing in a row with no breaks on Friday at Ships of the Sea. Nineteen bands playing in two days is just crazy.
You're creating these connections between scenes, but what are you most excited about when it comes to the future of Savannah's music and arts scene?
The young people are starting to care again. A college town's artistic path is controlled by the demographic of the college. Whether we like it or not, they have an influence on us.
People don't talk enough about Triathalon, Wet Socks, and Boy Harsher enough. All of the SCAD kids were controlling the scene and people loved it because they cared about music. When I moved to town it seemed like the kids became a little more mainstream. The art kids at SCAD were less interested in indie art and more by fashion and DJing. Recently, Basically Nancy and some other bands have kids interested in going to shows again. That's huge.
What does Dog Days have in store for us after HalfAth?
More special events, more music, more shows. I want people to trust Dog Days and think, "Hey, they're having a show. No matter what, I'll have a good time." I try really hard to get big bands. I'm hoping to be a tastemaker and inspire other people to do better than me. Savannah's capable, we've got the people. Once people get interested, I think we'll have a real vibrant scene here.
HalfAth takes places over two days, June 25 and 26. Visit https://halfath-music-event.com/ for more information and to buy tickets.