BEFORE I SAT DOWN to watch Iron Family, a new documentary directed by local filmmaker Pat Longstreth and produced by local author, poet, and Savannah State professor Chad Faries, I'd already discussed the film with Faries, Longstreth, and playwright Jazmine Faries—the film's subject and Chad Faries' sister.
Prior to our conversation, I knew enough about the documentary to know that it was something that appealed to me not just as someone who writes about Savannah but also as someone who loves compelling documentaries. And as a lifelong advocate for disability rights and awareness/education who has Cerebral Palsy, Jazmine's story as a young creative person with Down Syndrome navigating life in their 30s was something I felt an immediate connection to.
What I wasn't prepared for was how much this story truly lived up to its title; how it really showcased both Faries' relationship with each other and their family, and the ways in which those relationships informed the production of Jazmine's original play, The Double Life. Jazmine has been putting on plays for several years in her hometown of Iron River, Michigan, and the sixth-season production was set to be filmed by Pat Longstreth and produced by Chad, at Jazmine's request. What ultimately happened was a feature-length documentary about love, loss, creativity, empowerment, and family.
It's a remarkable film that is as real as it gets, fully open and nothing held back.
"We never outlined anything," Chad says of the direction the film took during production. "I just knew that after we got footage that something would be there, and that we'd be able to put something together."
The seeds of the film were as simple as a desire to have Jazmine's play filmed professionally, and nothing more. Chad and Longstreth were friendly from Savannah, where Longstreth had just returned after spending time in Los Angeles.
"It was on Earth Day at Daffin Park," Longstreth says of Chad approaching him to film the play. The movie includes several scenes filmed in Savannah.
The Double Life, Jazmine says, "took a lot of thought" to complete.
"Growing up in my hometown in Peoria, Illinois, for 16 years, I thought that I needed a 'home base' kind of story," she says. "I thought maybe I could call it The Double Life because I always had kind of a double living living down in Peoria.
"I told Chad that I had this play that had to do with my life, and I wanted to see it on screen."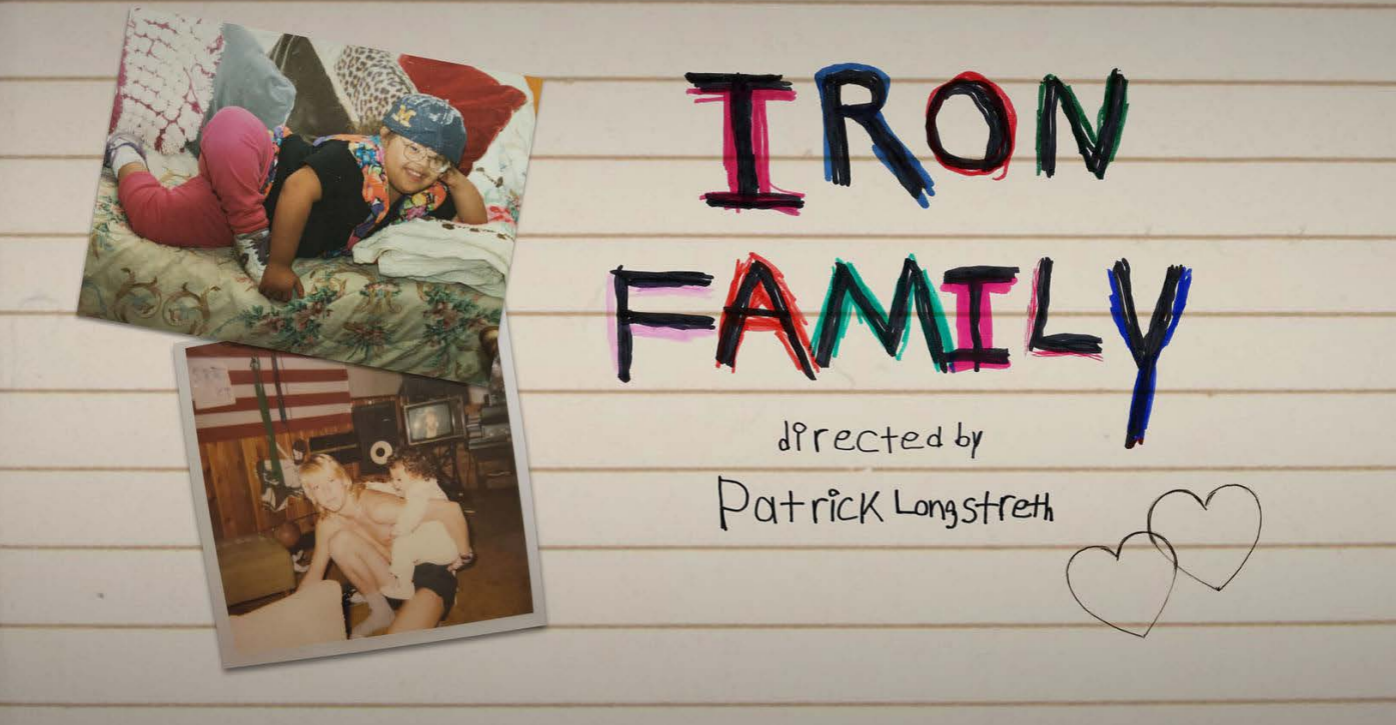 When Longstreth got involved, he hadn't met Jazmine yet and only knew Chad from Savannah. There was an instant connection, though, between Jazmine, Longstreth, and his wife, Anne.
"For me it felt like about 30 seconds," Longstreth says.
Though there were some moments that couldn't be captured on film because of how quickly they happened, there were so many interesting and film-worthy moments during their time together that Longstreth knew they had something special.
"My wife and I had both read Chad's memoir before the trip so we did have some idea as to what to expect from the family when we got there," he adds. "Although Jazmine does not appear in Chad's memoir at all, so Jazmine was a huge surprise. And immediately upon meeting Jazmine, I knew, 'Okay, this is going to be more than a short film.'"
After seven days of shooting and capturing the play was when Longstreth says he knew there was a feature. They went back to Iron River several more times over the course of the year to do more filming. Iron River plays a major role in the doc as well, almost like a character in itself.
"The fact that there's not a whole lot to do there is partly why I think Jazmine creates her own excitement and her own fun," he adds.
Two big things are happening for Iron Family at the moment. The most pressing of which is a campaign to get as many people as possible to pay and watch it virtually while it screens during the Slamdance Film Festival (ending on February 6). Chad Faries and Longstreth both say that the Slamdance screening could lead to a major award for the film—which has already won several at other festivals—and ultimately help them secure wider distribution.
The second big happening in the world of Iron Family comes from a surprising supporter: Patricia Arquette. The veteran actress has worked with Longstreth before on a project for her organization, and recently tweeted about the film to help spread the word.
Most notably, though, was her direct call out to Matthew McConaughey, who Jazmine loves and who her character is married to in The Double Life. Now, a campaign to get McConaughey to watch the movie is going strong.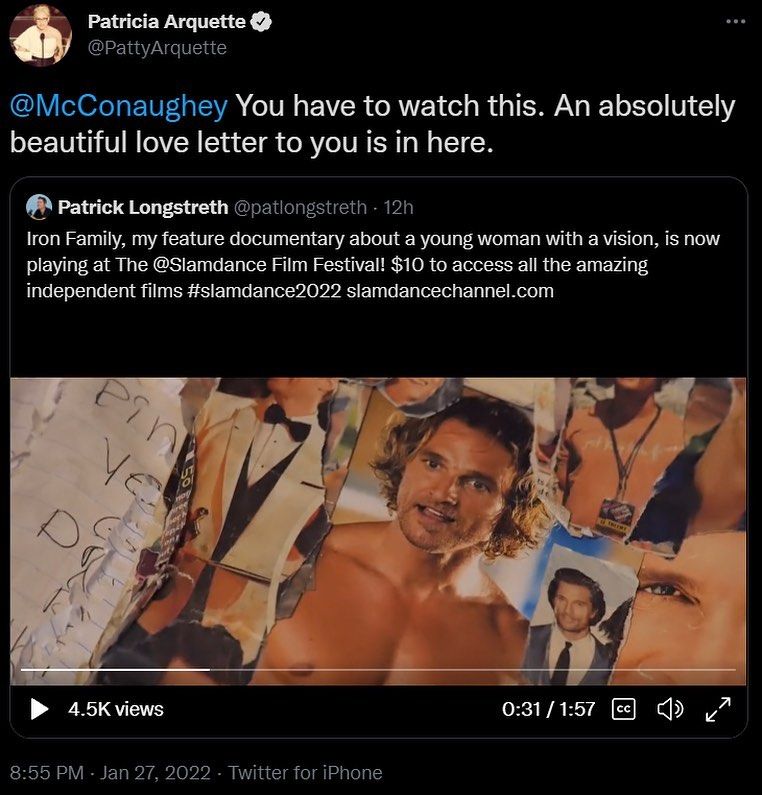 All this is a testament to a documentary that is truly unique, and tells a story that is exclusive to Jazmine and her incredible talent and creativity, yet somehow also universal and relatable in the way it portrays community and family.