By Emily Dietrich
RITA D'LaVane, award-winning burlesque performer and bartender for the famous Club One, is no stranger to the vibrant LGBTQIA+ communities in Savannah.
As the troupe leader for The Savannah Sweet Tease, D'LaVane has made creating intersectional queer spaces for members of our community their top priority–even when the city does not.
Born and raised in the Hostess City, D'LaVane has witnessed firsthand the city's push for acceptance over the course of the years. From the first openly gay bar to Savannah's first Pride parade, the city continues to maintain a thriving, tight-knit queer community.
We took a moment to sit down with D'LaVane to learn more.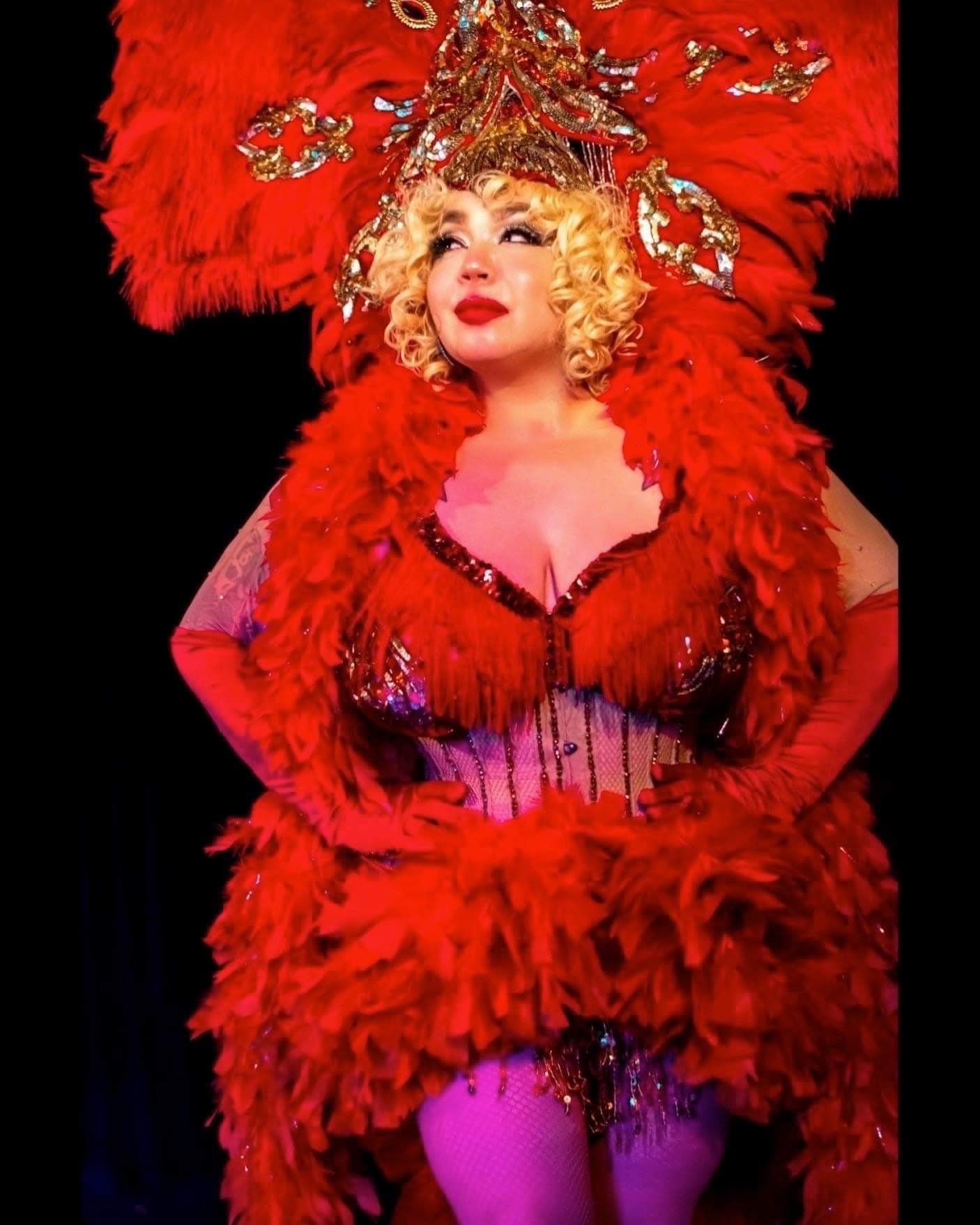 What was it like growing up in Savannah?
It was interesting growing up here. Savannah has always been very queer accepting. Now, it's just more apparent. Things are becoming more socially acceptable when it comes to the LGBTQ+ community and how we are perceived. Savannah used to actually have more than one gay bar–and that sustained for a while back in the day. As you know, Club One is the only gay club now. It's always been here. People are just beginning to recognize us a lot more here in Savannah.
How did you come to know Club One and what made you want to work there?
My sister, who was 6 years older than me, had a former roommate who was a drag queen in the cabaret at the time. I turned 16, got my driver's license and a fake ID, and went to see a drag show. Drag shows then weren't accessible. There were no drag queens on television–no RuPaul's Drag Show. We're talking 1998, you know? Being the young queer person that I was, it changed a lot for me.
As I grew into my own self, I knew I wanted to be a performer and exist in a space like this. I knew it would be a place for me to express myself and accept my own identity as I grew into a queer person. It definitely helped me identify my gender and sexuality. I got the job because I hung out there so often–which is how a lot of people begin working at the club, actually. And so, I started working there and everything came full circle with The Savannah Sweet Tease now performing there and also collaborating with other groups there. I came into exactly what I wished for when I was an adolescent.
Club One plays a significant role in the acceptance of LGBTQIA+ neighbors. How have you personally seen its impact on the local community?
All of us that work there sort of assume a role in community outreach and activism to a certain extent. It comes naturally because we are still fighting for rights and to just be seen as people. In a way, simply existing is protesting. And also by opening our doors to all people, including bachelorette parties, we allow everyone who walks through those doors to feel welcome and leave better than they came. Having a good time can help everyone see queer members of our community for who they truly are–human beings.
You're an award-winning burlesque performer and troupe leader of the Savannah Sweet Tease. How does the troupe support the local LGBTQIA+ community?
The Savannah Sweet Tease gives people a space to explore gender identity. Performing helped me a lot as far as my personal journey towards gender identification. There's something to be said about being able to work through the process of finding oneself. Club One gives us a space physically, but the troupe gives people a space spiritually. Members of The Savannah Sweet Tease get a chance to be seen as their authentic selves.
Do you work with any other groups that support the queer community in the area?
Of course, we've worked with the House of Gunt and collaborated with every other performance group in Savannah pretty much. And, what that does is that it helps everyone. I don't believe that community and industry are mutually exclusive, but you can make it that way. You can form a sense of community on a local level. It doesn't always transfer to the industry, like on a wider network, but making a strong home base is important. It's like the first stepping stone. So, collaborating with other groups that support holding space for queer and marginalized people, sends a message: We're all here to do this together.
In your opinion, how can Savannah see more progress in the acceptance of the queer members of our community?
I would say that it takes understanding all aspects of the rainbow. I feel like, for the most part, Savannah is accepting of the commercial queer scene. But, it takes understanding all facets of the LGBTQIA+ community to be truly accepting. Really, getting a good understanding of terms like "trans" and "queer" as opposed to just recognizing the community on a surface level is incredibly important. There will always be misconceptions of what it really means to be queer-accepting or trans-accepting, but we're slowly inching towards progress here in Savannah.
Although Savannah Pride is held in October, what do you think Savannah gets right about Pride celebrations? Anything in particular that Savannah does well?
We have only had one Pride parade so far and it was the most adorable, cute, amazing parade. There wasn't anyone protesting being gay or anything. You see stuff like what happened at the Idaho Pride event, and it's shocking. We didn't have anything like that. I think that a lot of people aren't outwardly aggressive towards us in Savannah because we do have a tight-knit queer community. Savannah Pride is personal–somewhere between a small town get together and large scale pride. It rests in a place that is very kind and loving.
How does it feel to be a leader and voice for the LGBTQIA+ community in Savannah?
I've never really thought about that, but I think I'm having a good time. I'm from here, and we call it the hostess city, and a lot of people who visit Savannah say that we're nice and hospitable. I think there's a large part of me that functions off those fundamentals. I want everyone to feel safe and taken care of here. That's my subconscious approach to being a queer leader.
Is there anything that I haven't asked that you want people to know about yourself or the local LGBTQIA+ community?
Yes, I use they/them pronouns exclusively. I tend to get misgendered all the time as a femme queer person.