By Kyle Law

I HAVE not been bartending very long, in the grand scheme of things. Which things? I do not know. Seven years. I have been bartending for seven years. Somewhere within those seven years there have been quite a few ups and downs.
I really miss being a young bartender. Again, yes, I get it. Is seven years the grand scheme of things? Shoutout to all my favorite older grizzled bartenders I aspire to be one day that would say "hell no" then offer to do a shot of frozen sambuca with me.
I think I had the most ideal early bartending career in retrospect. After ditching my previous career in ~2013 I found myself working at a fancy hotel where I became friends with the head bartender. This cat took a chance on me, for no real reason. I had zero experience in food and/or beverage, even though part of my pitch for initially landing a job at the hotel was arguing that having worked in medical records and at PacSun was a form of hospitality. This cat went to bat for me when I was trying to change departments to get my behind the bar. I learned fundamentals of what I would call "formal bartending" here. I have been told that sounds pretentious, but I feel "craft cocktails" sounds more so personally. These fundamentals were drilled into me. Shaking efficiently, stirring silently, measuring properly. Bought my first cocktail book, 2002's The Craft of the Cocktail by Dale DeGroff. I devoured this book. I still have it. I still read it. Dale is the man and all you youngsters should learn about him. Grizzled bartender practice.
After being forced to leave because of how awe-inspiring and luscious my mustache was at the time, I landed at what I would not have guessed was the best job I have ever had. I mean, the best for growing into what would be my career trajectory. I look back on this boss maybe unfairly and probably (certainly) heavily dramaticized. This guy was an asshole. He was militant. "Labels out or fifty lashes for yee boy!" Again, I say this very tongue in cheek, I love this man very much and I owe more than I could ever repay. I consider him a dear friend. Anyway, so this son of a bitch was tough. But good Lord did he make everyone else around him better by proximity.
I received a text from one of my bartenders earlier around one in the morning or so. He was remarking on one of my books. I like collecting things so I like to buy physical cocktail books and keep them as trophies, I guess because I need that personal validation in my life. I took them all to the bar and started a library in the office with a sign out sheet and all. He texted me about a recopy of the 1935 Bar La Florida Cocktails book. He said "Dude I've been in the El Floridita cocktail book tonight and there's some crazy stuff in there." I responded back something way too long but it got me seriously thinking. Like I said in my response, I did very much enjoy browsing through old cocktail books, but why did I very much enjoy browsing through old cocktail books?
When I started thinking about it, it did not take me long to come to decide that I love looking at old books because the specs are so awful. The palates were so different and the flavor of products most certainly were comparably different from modern expressions. More times than not, you could find some wild and interesting flavor combinations that you can not help but try to recreate them, making the drinks actually taste good. It makes you appreciate the classics and their lesser known comrades from way back when.
Everything has been infused. Everything has already been barrel aged (even a Cosmo, I know, what kind of sociopath…) Everything has been smoked. Everything has been fat washed (except that barrel aged Cosmo, right? Oh...) You have the opportunity in a time where everything has been done to find something cool from the 1800s to make your own and help this cocktail evolve. You get to learn this cocktail's story and help tell it. It is such an underrated and unique feeling of satisfaction. I first realized when someone complimented an Old Fashioned or something similar as "the best they've ever had." There are ways to make things incorrectly, make things adequate or make things delicious.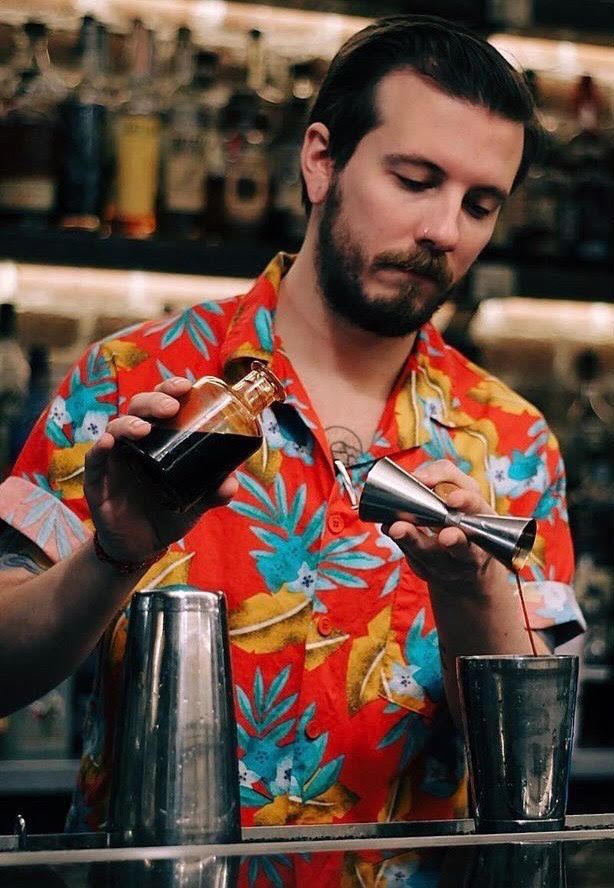 Called A Mexican Firing Squad, this spicy pomegranate margarita was the first cocktail I ever made my own and is still on the menu at The Alleycat as well as one of our best selling. This cocktail was first introduced to a gentleman at La Cucaracha Bar in Mexico City in 1937. The world was first introduced to this cocktail in this gentleman's 1946 book Gentleman's Companion, Volume II: Jigger, Beaker and Flask. Then I was introduced to this cocktail by means of a menu at a restaurant I was working at in 2015 or so. The house spec at this restaurant was:
1 ½ ounces Blanco Tequila
¾ ounce Fresh Lime Juice
½ ounce Grenadine
¼ ounce Simple Syrup
3-4 dashes Angostura Bitters
It was a seriously solid crowd pleaser. I used this drink often over the years at different places, yielding generally favorable success while tweaking with it. In the PDT Cocktail Book—if you do not already have this book shame on you, if you do and have not bought a copy for a friend also shame on you—the house cocktail was made a little differently at the legendary NYC speakeasy:
1 ½ ounces Blanco Tequila
¾ ounce Fresh Lime Juice
½ ounce Grenadine
¼ ounce Simple Syrup
3-4 dashes Bitterman's Hellfire Tincture
So Meehan and crew opted to serve this with a little bit of heat? Interesting. Well, what did the initial concoction that Charles Baker received taste like? The Gentleman's Companion has the answers:

Take two jiggers of tequila … add the juice of two small limes, 1½ or 2 tsp or grenadine or plain gomme syrup. Add 2 dashes of Angostura Bitters.
No heat here but the full description sounds very tiki to me. Before you ask, of course I have dressed this up for a beach-party already. But this cocktail has the bones of a Margarita all day. Considering one of the biggest requests I get continuously over my career is "something spicy with tequila," naturally I gravitated to putting some peppery heat into this ole Firing Squad. I opted to use the old restaurant build but put in a touch of heat by way of green chile using St. by adding in a half ounce of George's flavored vodka and an extra dash or two of Angostura Bitters.
This is why I love bartending. This is my favorite part about bartending. You have to have one reason why you originally loved whatever it is that you do in order to come back to that. This is mine. It keeps me going. Being familiar with what was done before us is important to what we do going forward.
Without further adieu, my Firing Squad spec:
1 ½ ounces Fortaleza Blanco Tequila
½ ounces St George Green Chile Liqueur
¾ ounce Fresh Lime Juice
½ ounce Grenadine
¼ ounce Simple Syrup
3-4 dashes Angostura Bitters