Photos by Marsalis Eason

A MOTHER of four and a grandmother of nine, Tammy Stone is looking to give back to her community while bringing decorum back to City Council in her bid for District 3.
Stone was born in Savannah, moved away to Massachusetts and came back to the city in 1992. A few years later, in 1998, she opened Xscape Hair Studio and is proud to say it's still open today. She also began her Facebook Live show, Tee Time with Tammy, during the pandemic.
But it was while watching this administration's Council meetings that she decided she wanted to run.
"Honestly, I was sitting at work and watching the City Council meeting, and it really made me think that these people actually think this is a personal thing," Stone reflects. "We're put there for the people, and there's all that bickering back and forth. That really bothered me. I can be that person that can sit and have a conversation; I don't want to be disrespectful to anybody."
Having lived on the Eastside for so long, Stone has seen her neighborhood change a lot. She says there's less familiarity between neighbors now, which is definitely a generational shift.
"It used to be a time where people would be outside, taking cakes and plates over to the neighbors," she remembers. "It's almost like they're afraid to open the door—it's not like that anymore. You don't hardly see the kids."
To Stone, neighborhood decline and decay is a huge issue for the third district. She points to blighted and run-down houses with overgrown yards and delayed trash pickup as contributing factors.
"There's one guy who's been in his house for over 50 years—he's 89 years old—and he's so tired of the trash, they're not picking it up like they're supposed to," says Stone.
The issue of property taxes compounds this: when investors see this decay, they buy and flip homes, and that brings up property values and thus taxes in the area, which prices longtime residents, especially the elderly, out of the neighborhood.
"When Mr. Jones builds a house two doors down from you, your property value goes up, and your taxes go up," says Stone. "And for a lot of our people—black, white, Hispanic, Indigenous, whatever—that's a lot for some people. Somebody on a fixed income cannot afford it."
Stone worked with Chatham County Tax Commissioner Sonya Jackson to teach her constituents about their tax bill. If elected, she wants to create more partnerships like that, particularly with the police department to foster more community policing.
"Every now and then, you might see an officer ride through, but I think the way we get people to trust them is to know who they are," Stone says. "I do believe they've gotten a bad rap, but for the most part, people are still afraid."
Stone wants to see conflict resolution taught in school, as well as other programs to get kids more involved in positive activities.
"What if the schools provide a space where young people can go and the young ladies learn how to cook, how to clean, how to dress, and the men learn to be positive young men?" she asks. "I'm going to go to the schools and just talk with them."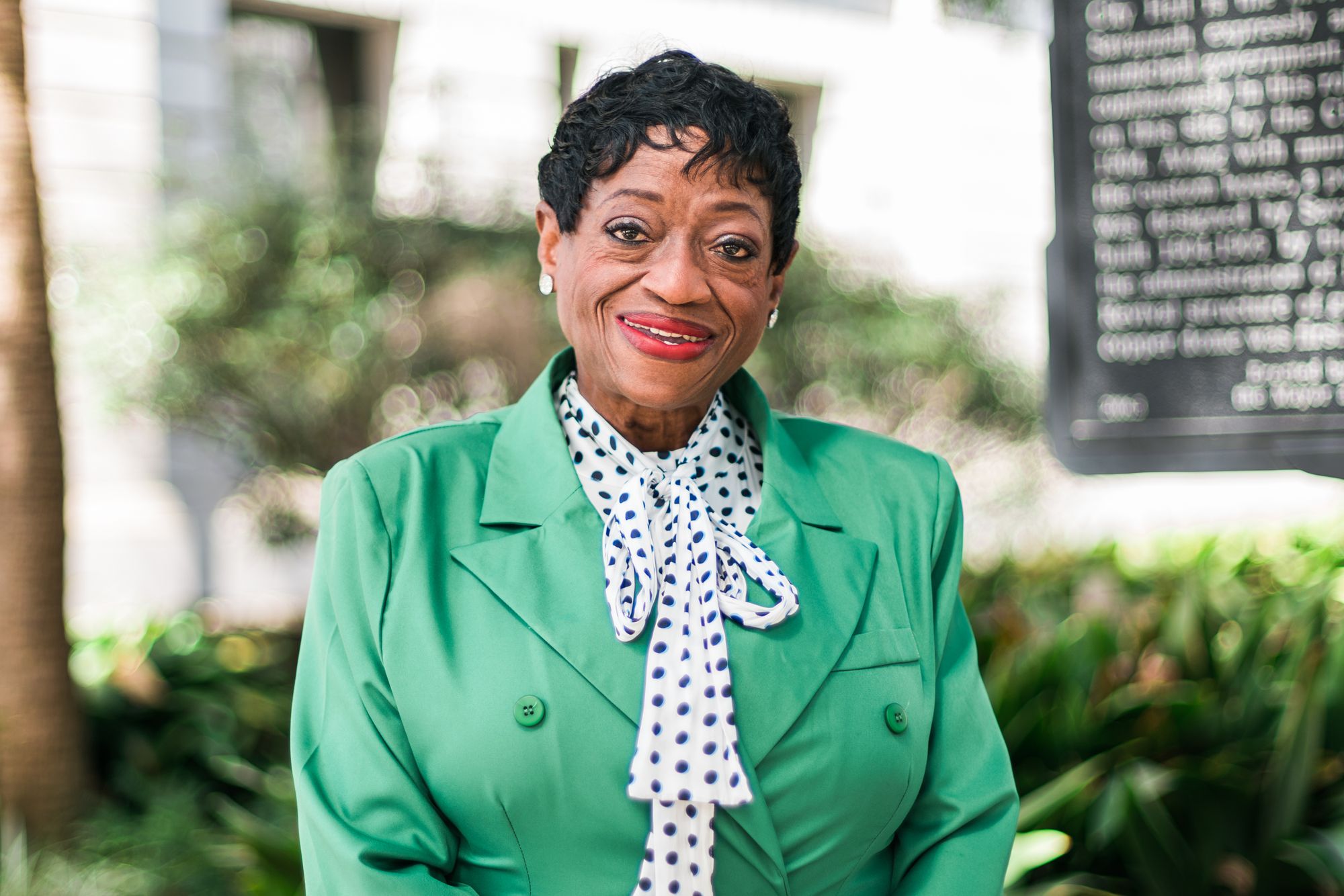 As far as district leadership, Stone thinks that current Alderwoman Linda Wilder Bryan has not been present enough.
"When I go to neighborhood association meetings, they say they don't see her, she doesn't answer her phone," says Stone. "They're trying to get things done in different areas. If you're not able to get it done, then come and explain to us why. Your district is district three, and I think she needs some more focus on that. I'm going to be present, I'm going to recognize that that seat does not belong to me, that seat belongs to the people. That's who you work for."
Stone brings up the issue of agenda access and the infighting between the minority and the majority.
"When our mayor said 'This is our tribe, we stick together,' that to me is a problem," says Stone.
She also wants to support other small business owners since she knows firsthand the level of effort that goes into opening and maintaining a business.
"[I want to] advocate for small businesses, make it a little easier for them to obtain a business license, making a business plan, things of that nature," she says.
Along those lines, Stone wants to see the current process for alcohol license hearings change to suit business owners better.
"If that person does not have a criminal background, they have proven they are business savvy and in a zoning area that they can have it, why not?" she asks. "If this person has no background, history, and it's legit, I don't see where it's not right to not give it to them. Give everybody the same opportunity. And If it's not, then okay, let's take other measures."
If money or approval were no object, what would be the first thing Stone would do in office?
"I would have to say housing," she says. "If we don't work on that, you're going to have a homeless problem, it's going to be worse than what it is. We really need to find out what can be done."
---
Like our City Council election coverage? Help us do more of this kind of work by making a donation.