AS A Savannahian who has attended and written about St. Patrick's Day for literally decades, I admit I've gotten pretty blasé about it.
Like anyone very familiar with a particular topic, sometimes it's hard for me to wrap my head around that topic being totally new to someone else.
Few things lately have reinforced this warp more than my realization that — with the St. Patrick's Day parade being canceled for the past two years due to the pandemic -- a truly huge number of people who just moved to Savannah over the past few years still have no clue what Savannah's signature celebration truly entails, because they've still never experienced it.
If you visit any of the now-ubiquitous neighborhood chat pages — or God forbid, go on Nextdoor — you're bound to notice the huge amount of people new to town asking literally the most basic questions about St. Patrick's Day in Savannah:
Where is it? What is it? What happens? What do you do? How about after the parade? Where do I park? Do I have to pay? Who do I pay? What do the Irish have to do with Savannah, anyway?
Adding to the confusion this year is the also-undeniable fact that this first post-pandemic edition of St. Patrick's Day will be different in a lot of ways. For example, our already generous to-go cup zone will expand hugely, if only for 24 hours.
So for all you folks too embarrassed to ask the simple questions, I'm here for you.
Here's my Judgment-Free Savannah St. Patrick's Day Guide for Dummies:
Where is it? What is it?
St. Patrick's Day is anywhere you celebrate it, whether at Morning Mass Thursday at the Cathedral of St. John the Baptist or over Irish coffee as you pregame for the celebration.
But for our purposes most St. Patrick's Day stuff happens from Forsyth Park north to River Street. The usage of these spots varies depending on the time of day.
The parade marches out from an area next to Forsyth Park starting about 10:15 a.m. Are you 8 years old? Do you really like parades? Get a spot early on the route closer to Forsyth Park — the bands and marchers will be more fresh.
Just got to the parade at noon and are worried you might have missed it? You didn't miss it, trust me. It's really long and goes on for several hours.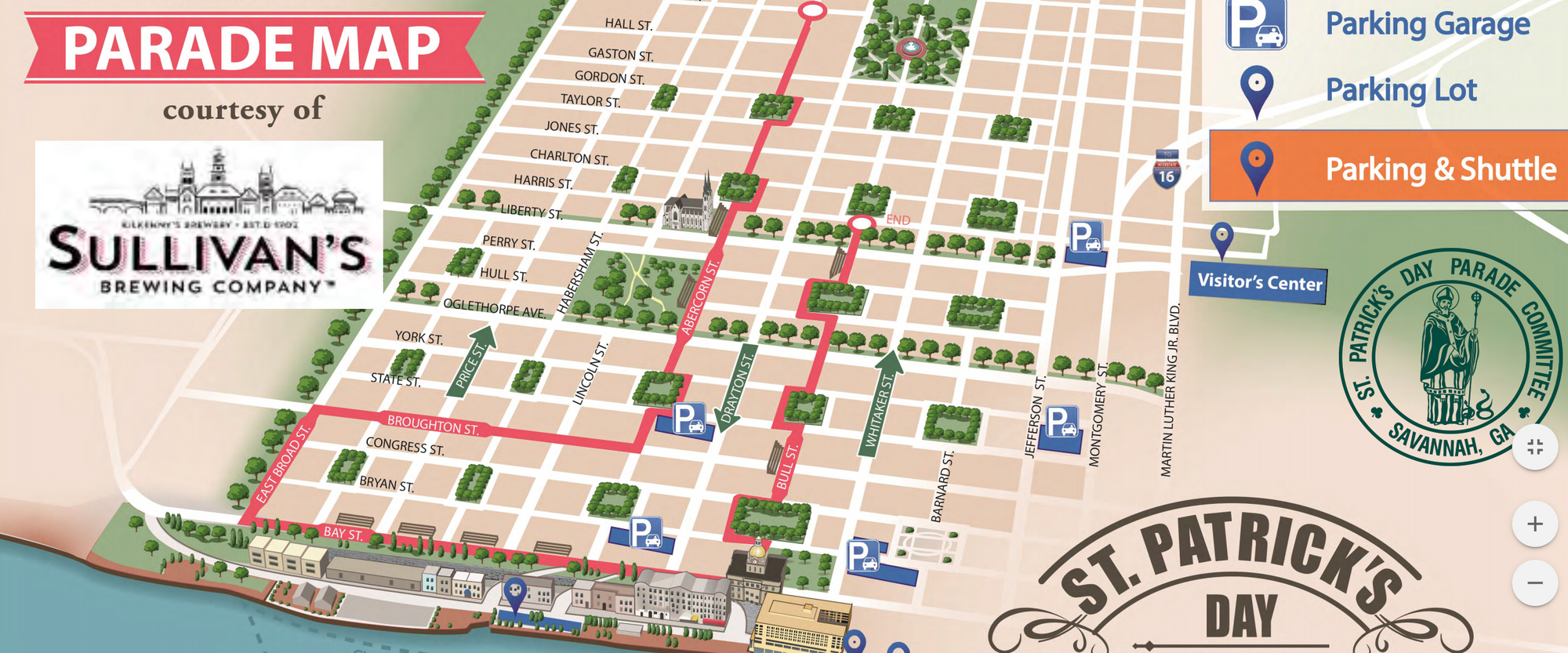 If you get a spot closer to the end of the route, many of the marchers will be tuckered out and the horn players will have blown-out lips. It's a really long-ass parade, folks. And things get pretty loose toward the end of the parade.
The most diverse crowds along the route are on Broughton Street and Bay Street. This is a good mix of locals and tourists and everyday Savannahians.
The least diverse crowds are in the half-dozen squares that the parade goes around, especially near the beginning of the parade, which are mostly populated by locals who try really really hard to get good spots on the square. It's a thing.
Yes you can walk through the squares during the parade. But don't cross the parade route unless at a spot where the barricades are open, and don't interfere with marchers.
Don't try and mess with the bleachers near the Cathedral, most of the fun at the parade is walking around and people-watching.
There are a lot of lame corporate floats in the parade. They are boring. Most floats in the parade are kind of boring, to be honest.
The bands tend to be really good. The high school bands are the best locally and in the region. The pipe and drum bands and the military bands are top-notch as well.
Growing up here, we always enjoyed heckling the float with the Mayor and City Council on it. But for some reason people really seem to worship politicians these days, so that doesn't happen much anymore.
I still say heckle the shit out of 'em.
What Happens? What do you do?
Drinking happens.
Savannah makes this really, really easy to do.
People can and do enjoy themselves at St. Patrick's Day without alcohol, but let's be honest: Unless you're a kid, drunk people are only fun to be around if you're also drunk. And if you're not drinking inevitably someone will ask you to be their designated driver, and good luck with that.
Bottom line is – and I'm trying to be of practical use here -- you can and probably should drink your ass off all day unless you're getting behind the wheel of a car at some point.
I'm not saying don't bring the kids. Bring the kids! They actually love it as much as anyone.
How about to-go cups? I saw someone ask if to-go cups are still allowed on St. Patrick's Day.
Are they allowed on St. Patrick's Day? Is the Pope Catholic?
You could already rove most of downtown Savannah north of Jones Street – pretty much the entire Historic District – with your open cup of alcoholic beverage, 365 days a year. One truly great thing the City is doing this year is doing away with the "wristbands" which required people to pay ten bucks a day to enjoy a privilege us regular Savannahians enjoy year-round.
So that's good. No wristbands=No paying to drink. Lucky you! Although locals totally ignored the wristbands anyway.
This year the "to-go cup zone" where it's legal to walk the streets with your drink has hugely expanded southward and eastward, but to be honest I doubt it will matter much. For the record, it goes east to Truman Parkway and all the way south to Victory Drive.
But for the vast bulk of folks celebrating, what this extra zone really means that folks in the Starland/Bull Street area — around Bull Street Taco, the Vault, Starland Yard, Two Tides Brewing, and over to Lone Wolf and Moodright's — will be able to walk around with their to-go cups.
My bet is that most folks outside the Historic District and Starland probably won't utilize their new 24-hour exemption much except at the occasional block party.
How about what to do after the parade?
Depends. Do you like really drunk people, the smell of dank weed, lots of cops, and perhaps the occasional alcohol-and-testosterone-fueled gunfight at 2 a.m.?
Then you'll love the City Market and Ellis Square area beginning about 4 p.m. Thursday afternoon and especially into the night.
Do you like Wooing and Woo Girls? Then you'll love River Street, especially late Thursday night and into the weekend.
Do you like Woo Girls and waiting in line at elevators a long time? We have a shit ton of rooftop hotel bars in Savannah these days, just lift your head up and look around.
Or do you just want to light one up and snooze off your day-drunk buzz on a blanket in the grass? Forsyth Park is the best place for that, brother.
But what about you, Jim, oh great sage? What are your favorite spots?
After the parade you might see me at The Rail Pub or 1790 or Pinkie Masters, or any combination thereof. We especially love O'Connell's Pub on Drayton Street, which is still the only genuine Irish pub in this town.
But honestly, many locals will head straight to the Starland area and not even mess with downtown. The first-ever "parade" in Starland is the night before.
Where do you park?
Ideally, nowhere. Not in a car, anyway. Just ride your damn bike into town and lock it up somewhere.
Seriously, don't drive. Don't even think about it. Just ride bikes. The weather's going to be fine.
Lincoln Street bike lane is your best bet. It's technically a northbound lane but on St. Patrick's Day people ride it both ways.
If you're biking from downtown to Starland to party after the parade — which would be an excellent idea! — use either the Lincoln or Habersham Street bike routes, they straddle the Starland district.
Price Street has a bike lane south out of the parade zone. But people in cars act like damn fools on Price Street. Google Maps routes all the tourists to Price Street, and for some reason everyone thinks the bright green bike lane means they can use it as a passing lane. This is bad.
If you're still trying to drive near to downtown, find a private lot being rented out, at a church or something and pay the damn $20 without arguing. It's a fair price. In Atlanta you'd pay at least $20 to get into a private lot on any ordinary day.
Don't mess with the City garages downtown. If the pay machine is down, which happens a lot, you'll spend most of your St. Patrick's Day in a car in a concrete box with a huge line of other cars waiting to get out.
One thing that sucks this year is that Chatham Area Transit is NOT offering their usual free shuttle to and from the parade. You can take regular CAT routes if you want but you can't take coolers aboard.
Uber is fine but will probably be super expensive and you'll probably wait a long time for a driver, depending on time of day.
What do the Irish have to do with Savannah?
Unlike most deep Southern cities, Savannah has a strong Catholic heritage, and this is mostly reflected in our large Irish population. Most of Savannah's Irish came here in the mid-1800s, largely prior to the Potato Famine, to help build the railroad.
If you're familiar with Irish-Americans in other areas of the United States, like Boston or New York or Providence for example, ours are a bit different. They tend to be more suburban and settled, and except for the occasional priest from the old country, they have Southern accents and are fans of University of Georgia football.
Many of them march in the parade itself, wearing bright green jackets and such. These are all local families, and it's perfectly OK for you not to recognize even one of them. But if you do, it's also perfectly OK to say hey.
If you run into anyone wearing newsboy caps and track suits yelling "Sully, get ovah hee-ah" to each other and talking about hockey, they aren't Savannah Irish-Americans.
So where can you hear all the Irish music? That's the catch, there pretty much ain't any.
For whatever reason there's very little actual Irish culture in this Irish town of Savannah on St. Patrick's Day. The aforementioned O'Connell's Pub is the closest thing you'll get to authentic Irish culture here on the day itself.
There are some great Celtic musicians in town, but they mostly have to get work elsewhere on and around St. Patrick's Day.
And do us all a favor and call it either "Paddy's Day" or "St. Patrick's Day." Anything but "St. Pat's" or even worse, "St. Patty's Day."